#BBCtrending radio: catch up on the latest show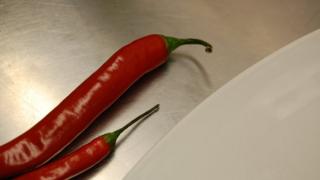 Listen to or download the latest BBC Trending radio show.
In this week's show we find out how a national chilli dish in Mexico sparked debate when a maid was filmed apparently taking more than her share of dinner. Her employer filmed the moment the maid was confronted and the video was posted to social media. Anne-Marie Tomchak finds out why thousands have been angrily tweeting #LadyChiles .
Also on the show a satirical video, Armagayddon has been trending in Ireland as the countdown to the referendum on same-sex marriages begins, and we find out why social media restrictions on journalists in India have ignited the trend #TwitterPasswords.
The programme was produced by India Rakusen.
We are on BBC World Service radio at 10:30 GMT on Saturdays and you can put us in your pocket and listen anytime by downloading our free podcast.