#BBCtrending: The Indian journalists' #TwitterPasswords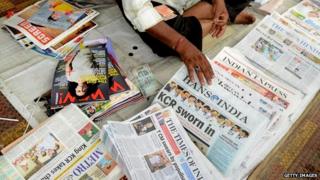 In India, jokes about passwords have been trending online. They come in response to a report that journalists might be asked to share access to their Twitter and Facebook accounts with their bosses.
Most would balk at the idea that their tweets and Facebook posts could be written by their employers. But that's exactly what journalists at the Times of India have been left pondering, after sections of what appears to be a new contract were published by another news organisation.
A clause in the draft contract states that journalists will need to hand over passwords to their social media accounts - or create new ones - allowing their employers to make supplementary posts in the journalists' names. The move would give the paper an incredible degree of control over what its employees could say, and provide access to their personal information on Facebook.
The controversy played out on Twitter. Editor of news website Quartz India, Sruthijith KK, posted: "The Times of India just instituted a bizarre Twitter and Facebook policy," linking to his article which made the claims. A senior manager at the Times, Satyan Gajwani, hit back. "The piece by @qzindia is inaccurate. I told @sruthijith that but he wanted to run anyways," he said, later tweeting that the documents Quartz had obtained were "old".
So were the paper's plans genuine? Besides Gajwani's response on Twitter, the Times hasn't issued an official statement, and some have suggested the paper would have sued if the claims lacked substance. Madhu Trehan, editor of media news website Newslaundry, tells BBC Trending that Gajwani's comments were very vague. " 'How old?' is the question to ask them. Is the contract two days old or a year old?" she says. On Twitter Gajwani said a new version - with major changes - has been created, but not shared publicly.
Many responded on Twitter with a sense of resigned cynicism. "ToI is just being polite when it is asking for passwords. In reality they can just track every keystroke and click and conversation," said one tweeter. The hashtag #TwitterPasswords emerged, and soon span out into comedy. It has appeared more than 7,000 times to date. Many used it to mock Alia Bhatt, the Indian film star who famously failed to name the country's president during a TV quiz. Her password should be "incorrect", one joked, so that if she ever gets it wrong Twitter would remind her by saying "your password is incorrect".
Trehan says that if the paper does implement the policy, it will pose a dilemma for many journalists, particularly younger ones who may have less choice in the matter. "It's very difficult for someone being hired to take the decision 'Oh I'm not going to sign the contract'," she says. Neither Satyan Gajwani, the Times of India, nor Bennett, Coleman and Company Ltd. - the paper's parent company that apparently created the draft contract - were unavailable for comment.
Reporting by Sam Judah
You can follow BBC Trending on Twitter @BBCtrending
All our stories are at bbc.com/trending