#BBCTrending: Where's Jaycee? Chan's arrest leads to viral video game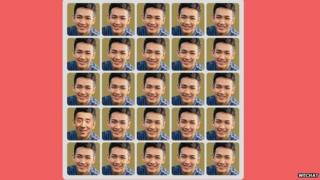 Troubled Hong Kong actor Jaycee Chan, more famously known as the son of martial arts legend Jackie Chan, has starred in a new video game after being arrested on drug-related charges.
The game called "The National Search for Jaycee" spread like wildfire on popular Chinese messaging app WeChat. The game is available to play online, and has been accessed more than 60 million times since being released on Tuesday.
The aim is to spot Jaycee amongst a sea of pictures of Kai Ko, a Taiwanese movie star who was arrested as part of the same operation.
"It's a great shame about his career but I had fun playing the game; it seemed pointless but proved to be very addictive," one WeChat user said. "Spot Jaycee? It's harder than finding Wally," said another.
Last week's arrests come amid an ongoing crackdown - or "people's war" - on narcotics, which has already led to the arrest of several Chinese celebrities. Artist management agencies across Beijing have signed an agreement with local police, pledging not to recruit celebrities with reported drug use problems. Illegal drug use has been on the rise in China since the 1980s, and drugs are now bought and sold on social networks.
The operation is just one strand of Chinese President Xi Jinping's aim to solve what he sees as four key problems facing the country - formalism, bureaucracy, hedonism and extravagance. Public displays of decadence, particularly amongst a newly rich elite, is reportedly a source of increasing discontent in the country.
While the fate of Jaycee's career remains unclear, Jackie Chan made a public apology on Chinese microblogging site Weibo, saying he felt "ashamed" and "sad" about his son's actions.
Reporting by Heather Chen
You can follow BBC Trending on Twitter @BBCtrending
All our stories are at bbc.com/trending