#BBCtrending: The 'viral' weapons in Syria's conflict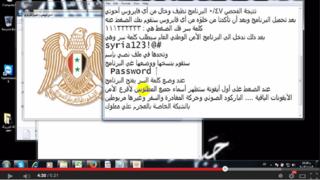 Groups of pro-Assad hackers are using social media and the lure of disturbing online videos to hack into the computers of rival groups in Syria.
Last year, the Syrian Electronic Army rose to prominence when they hacked into news websites and Twitter accounts run by the BBC, CBS, and other high profile media organisations.
Now the group appears to be using "social engineering tricks" - offering content that typically goes viral on social media - to install spyware on computers belonging to those who oppose the Assad regime. And they appear to be working. Internet security firm Kaspersky estimates the malicious software has been downloaded around 10,000 times.
One of the tricks involves promoting videos claiming to be of victims injured in recent attacks by the Assad regime. When attempting to download the clips from file sharing sites, rogue software is downloaded as well, which could give hackers access to the computer. If successful, they can record keystrokes, obtain passwords, and record online phone calls. Another piece of bait used is a letter which purports to be between Syrian military units detailing forthcoming chemical attacks.
Other methods include posting messages on Facebook encouraging users to protect themselves from government attacks by installing "Ammazon Internet Security" software - a fake anti-virus programme designed to compromise the user's machine.
David Emm works for Kaspersky Lab, an internet security firm that produced a report about the attacks. "It's social engineering. It's aimed at people who would be shocked or angered by what's been posted," he tells BBC Trending. Although it is impossible to be certain they are the work of the Syrian Electronic Army, there are clues that suggest they are involved. As well as the nature of the content itself, the spyware is passing information back to a server with an IP address provided by the TARASSUL, as ISP associated with the Syrian government.
Once infiltrated, the machines can be used to collect intelligence, and disrupt opposition networks. Emm says the attacks are likely to become both more prolific and more sophisticated as the conflict continues.
Social networks have played a huge role in the Syrian conflict to date. Government regulated news broadcasts have pushed many people online in a search for more information. Social media has been used for everything from breaking news, to documenting battles, and fundraising for opposition forces.
Reporting by Sam Judah
Have you subscribed the BBC Trending podcast? You can do so here via iTunes or here
All our stories are at BBC.com/trending