#BBCtrending: Adult actress details alleged assault on Twitter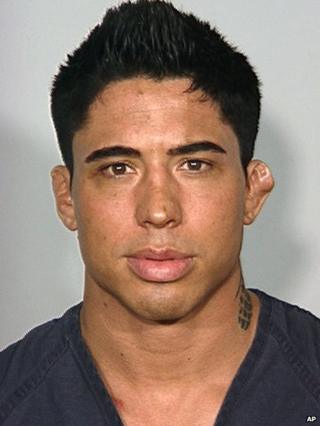 An adult film star is in the hospital, with her ex-boyfriend, a mixed-martial arts combatant, wanted by the police.
It's the kind of story ripe for the tabloids. The tale, however, has unfolded almost entirely on social media - including conflicting stories from those involved, graphic photos and crowd-sourced efforts to help the injured.
In the press, the incident is being cited as a cautionary tale about domestic abuse, sports violence and misogynistic culture.
Details of the story began to surface on Twitter on Saturday, when former Ultimate Fighting Championship participant Jon Koppenhaver, aka War Machine, posted a series of cryptic messages directed at his ex-girlfriend, adult film star Christy Mack.
"@ChristyMack I love you and hope you're OK," he tweets. "I came home early to surprise you and help you set up for your convention. I can't believe what I found and can't believe what happened. All I wanted was to surprise you and help and do something nice ... now this."
On Sunday, he would post more: "I'm not a bad guy, I went to surprise my gf ... and ended up fighting for my life."
He adds that "one day truth will come out".
The truth, or at least Ms Mack's version of it, was posted to her Twitter account on Monday evening, including several graphic hospital-bed photos of injuries the actress says she suffered at the hands of Mr Koppenhaver.
According to Ms Mack, Mr Koppenhaver entered her Las Vegas home unannounced at 02:00 Saturday. She says he assaulted a friend who was visiting, then turned his attention on her, cutting her hair with a blunt knife and severely beating her face and chest.
"I believed I was going to die," she writes. "He has beaten me many times before, but never this badly."
She says she escaped when he went to find a new knife in another room, and a neighbour took her to hospital.
Since Ms Mack's post was published, it has been retweeted more than 37,000 times. Replies to her message have been a mix of expressions of sympathy and misogynistic barbs.
Meanwhile, the adult film community has rallied around Ms Mack.
Adult actress Kendall Karrson started a Giveforward crowd-sourcing campaign to solicit donations for Ms Mack's medical care. So far it has raised more than $36,000 (£21,500) toward its goal of $100,000, including $10,000 from the owners of the pornographic website Brazzers.
In the mainstream media, commentators have lauded Ms Mack's willingness to come forward with her story and pointed out that Mr Koppenhaver has a history of arrests for violent attacks.
"Domestic abuse is a widely underreported crime and is especially prevalent in the porn industry," writes Cosmopolitan magazine's Frank Kobola. "Mack, a famous porn star with more than 570,000 Twitter followers, is extremely brave to post such an account, which could, sadly, negatively affect her career."
Ms Mack's move, writes Time magazine's Eliana Dockterman, is part of a growing trend among victims of violence to reach out on social media.
"Women and men previously ashamed to tell their stories of domestic violence or rape have used social media to share what happened to them with other survivors or shame their perpetrators," she writes.
She quotes Ruth Glenn of the National Coalition Against Domestic Violence, who says such public admissions of victimhood can be a double-edged sword, however. While the public can see what happens "behind closed doors", she says, it also could desensitise the viewer.
"I would hope that anyone who is experiencing violence would be careful because it does expose them to anything from victim-blaming to escalation of violence from their perpetrator," she adds.
Salon's Tracy Clark-Flory draws a line connecting the Koppenhaver-Mack incident and anti-women violence in US professional sports, as well as the Elliot Rodgers shooting and the pickup-artist subculture.
"Mixed martial arts has a long-standing domestic violence problem," she writes. "This case reveals the sport's link to a brand of toxic masculinity that is evident in the worst examples of current misogyny."
Las Vegas police have issued seven arrest warrants for Mr Koppenhaver, who has not been seen publicly since the incident. Bellator, a martial arts promotion company, announced that it was terminating Mr Koppenhaver's contract.
In addition, Ms Mack is offering a $10,000 reward for information that leads to his capture.
Reporting by Anthony Zurcher
You can follow BBC Trending on Twitter @BBCtrending
All our stories are at bbc.com/trending