#BBCtrending radio: Turkey's presidential election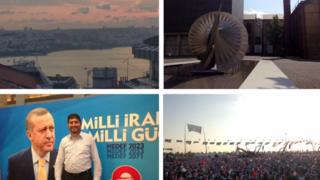 The man just elected as Turkey's President, Recep Tayyip Erdogan, once vowed to destroy Twitter - yet he used it to great effect in his campaign. On Friday, BBC Trending went on the road to Istanbul to look at the controversial role of social media in the campaign.
Presenter Mukul Devichand was at Bilgi University in Istanbul to discuss the trends and memes of the elections and the changing voice of social media in Turkey. We spoke to the AK Party's Istanbul branch about the role of social media this time around, and Mukul found out the latest on a blocked Twitter account leaking government information.
We met the creators of a YouTube comedy series set in the slums of Turkey's capital city, Ankara and found out about the digital legacy of the Gezi protests of 2013.
Presented by Mukul Devichand
We are on BBC World Service radio at 10:30 GMT on Saturdays - and you can put us in your pocket and listen anytime you like by downloading our free podcast