#BBCtrending: The president who threatened war on Twitter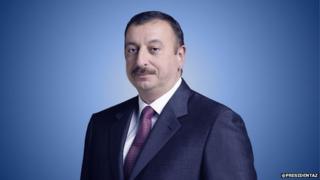 Time was, heads of state would declare war in sombre tones through radio and television broadcasts. But on Thursday, the president of Azerbaijan appeared to make the grave announcement on Twitter instead.
"We are not living in peace, we are living in a state of war. Everyone must know this," President Ilham Aliyev posted, amidst a string of tweets about the violent clashes with Armenia that erupted last week.
The two countries dispute the ownership of Nagorno-Karabakh, a region in south-west Azerbaijan. Although it lies within Azerbaijan's borders, the government does not exercise control in the region, whose population is 90 per cent ethnic Armenian.
The last 10 days have seen the bloodiest fighting for two decades, prompting Mr Aliyev to launch his tirade on the social network. "We will restore our sovereignty. The flag of Azerbaijan will fly in all the occupied territories," he wrote, declaring "we are able to defeat them on the battlefield," soon afterwards.
The novelty of his approach was not lost on his audience, who offered a live commentary on Aliyev's posts. "Shows how far Twitter has come as a diplomatic platform. Now even wars are declared here..." wrote one user. And of course, it left him open to being heckled in real time. "@presidentaz just try :) we will kill you and your soldiers," said one, "Dream big, fail big," said another, and "Go home Ilham, you're drunk," replied a third.
The conflict began around the time of the dissolution of the Soviet Union, of which both Azerbaijan and Armenia were part. An estimated 30,000 people were killed in the six years prior to a ceasefire in 1994. There are now fears that the current disruption could see the return of more intense fighting the region.
Reporting by Sam Judah
You can follow BBC Trending on Twitter @BBCtrending
All our stories are at bbc.com/trending