#BBCtrending: #SexySocialism and other trends from Scotland's TV debate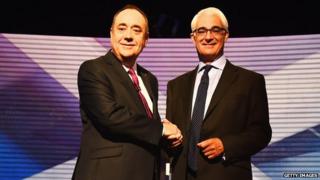 Alex Salmond's televised showdown with Alistair Darling triggered a storm of activity on social media, as each side tried to amplify their arguments online.
The Yes campaign was so keenly aware of the digital debate running alongside the traditional broadcast, that it issued a guide to its supporters on what to say. Entitled "Your guide to the issues in the STV referendum debate", the document asked followers to tweet - and retweet - particular points. Posting that Scotland "is one of the very wealthiest nations on the planet", was encouraged, as was the line that a No vote would lead to "the worst of both worlds".
The catch-all hashtag #ScotDecides has been used more than 140,000 times in the past 24 hours, and was littered with accompanying messages from both camps. Three flashpoints emerged: the most intensely tweeted moments of the debate all occurred during the cross examination stage, when each politician tried to trip the other up.
Jamie Bartlett, from think tank Demos, noted a more unusual hashtag that came into play. Hundreds of tweeters used #SexySocialism, a phrase popularised by the parody account @AngrySalmond, which drew attention throughout the night. The account has achieved a curious feat in both mocking SNP leader's vanity, and displaying affection for his foibles. "I keep walking out from behind the lectern to show off my awesome physique... #SexySocialism," it tweeted, as the real Salmond left his podium to address the studio audience. Of course, Angry Salmond claimed victory at the end of the night. "I won. Obviously", came shortly after "Darling is crying backstage. LOL".
One of the most shared tweets came from another parody account - @Queen_UK. "This is the worst game show ever," it read, showing the two leaders shaking hands against the gaudy backdrop of the television studio. The humour wasn't limited to spoof accounts, either. The debate was only broadcast in Scotland by STV, and when a deluge of foreign viewers attempted to watch the debate online, the channel's livestream crashed, leaving most outside the country in the dark. "If the STV player is a sign of what infrastructure would be like in an independent Scotland, everyone should definitely vote no," quipped a Telegraph journalist.
This heatmap shows when and where tweets flared up across the globe over the course of the debate - and offers an indication of the accompanying sentiment. As expected the majority of tweets were from Scotland and the rest of the UK, but was discussed across Europe, the US and Asia as well.
Reporting by Sam Judah
You can follow BBC Trending on Twitter @BBCtrending
All our stories are at bbc.com/trending