#BBCtrending: Can social media help prevent the spread of Ebola?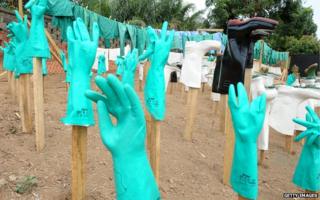 West Africa is in the grip of the world's deadliest outbreak of Ebola, and many in the region are using social media to educate each other on the symptoms and prevention methods.
#FactsOnEbola has been trending in Nigeria, with many sharing ways to prevent contracting the virus. "Symptoms of Ebola typically include: weakness, fever, aches, diarrhoea, vomiting and stomach pain #FactsOnEbola" tweeted one man in Benin City.
"I started #FactsOfEbola this morning after having a conversation about the disease with friends," says Japheth Omojuwa, a Nigerian blogger with over 100,000 Twitter followers. "I have a civic responsibility to serve the public - my followers and my country," he told BBC Trending.
Across Africa, social media is used for campaigning, for example the recent #BringBackOurGirls campaign which highlighted the plight of the girls kidnapped by Boko Haram. But when it comes to a disease, isn't it the role of the authorities to help educate the public? Omojuwa admits he's not a medical expert, but says he's keen to spread as many facts as possible. "I think it's better to bridge the gap between ignorance and information," he says. Since he started the hashtag on Tuesday morning, it's had nearly 2,000 tweets.
Across the border in Ghana, people are scared, says Nana Boakye-Yiadom, a journalist with Accra-based Citi 97.3FM. The radio station started the hashtag #EbolaFacts and is tweeting out information about the effects of Ebola and prevention methods that can be used. That hashtag has also had just over 2,000 tweets. Ghana's Immigration Service has openly admitted that its personnel were "not well-equipped" to deal with the outbreak "let alone be in the position to hold anybody suspected of having the virus".
"The question everybody here is asking is 'What if it comes?' We are not prepared," says Boakye-Yiadom. "We have a huge following online and the perceptions on the street of Ebola are wrong. By tweeting out information we got the hashtag trending and people can now see the information around the disease." His colleague Mawuli Tsikata, who devised the campaign for the radio station says there isn't enough education about Ebola and the situation on the ground is frightening. "Ghanaians are big on social media and so we tapped into that. It's our role to educate the public," he says.
Reporting by Ravin Sampat
You can follow BBC Trending on Twitter @BBCtrending
All our stories are at bbc.com/trending