#BBCtrending: Video teasing Kim Jong-un goes viral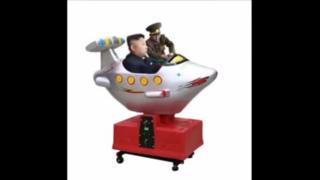 A mash-up video poking fun at the North Korean leader Kim Jong-un has been watched millions of times in China and around the world.
The video is cheekily named "Fat Guy Number 3" - a reference to the Kim family's supposed portliness - and, for three-and-half-minutes, it teases, and pokes fun at the North Korean leader (you can watch the video here).
It's made up of a series of animated GIFs in which Kim Jong-un's face is superimposed on all sorts of existing images. He's shown dancing, doing the splits, as a ballet dancer, with his trousers down, riding on the back of a pig - and many a surreal scenario in between. It's set to a catchy recent Chinese hit love song, Little Apple, by the Chopstick Brothers - which has been parodied a number of times, as well as being used in flash mobs in China.
A host of international leaders (or at least their superimposed heads) make appearances in the video too. US President Barack Obama is seen generally frolicking around in a light-hearted way. Russia's President Putin and the Japanese Prime Minister Shinzo Abe also feature.
The video appears to have been made by a Chinese man with 190,000 followers on Weibo - China's version of Twitter - who's been making Kim Jong-un GIFs for two years. Writing on his Weibo page, he said the video was "just for entertainment" and had no deeper political message. It was uploaded to the Chinese video-sharing site Tencent, where it's been watched more than 55 million times. YouTube is banned in China, but the video was later copied and uploaded there, and prompted a million views and comments from around the world. "Brilliant piece of mashup satire," wrote one person. "We, the people of China love this video, make part 2!" wrote another.
"It was very funny!" agrees Steve Tsang, head of the School of Contemporary Chinese Studies at the University of Nottingham. In general, he says, Chinese people see Kim Jong-un as "a cuddly, ridiculous man". That's in clear contrast to the official Chinese government line - though there are signs that support is weakening. "The Chinese government is always supportive of North Korea if the chips come down, but they are also fed up with the North Koreans," says Tsang.
Though the man who made it insists the video is not political, there are some scenes which appear to carry a message. In one, Kim Jong-un is seen holding Osama bin Laden's hand. In another, a missile he fires ends up hitting him on his own backside.
Reporting by Cordelia Hebblethwaite and Vincent Ni
You can follow BBC Trending on Twitter @BBCtrending
All our stories are at bbc.com/trending