#BBCtrending: How it trended - the MH17 blame game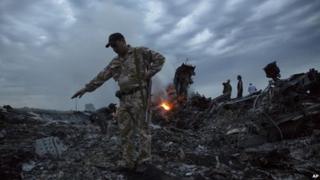 Since contact was lost with Malaysian airliner MH17, there has been claim and counter-claim on social media in Ukraine. Here's a timeline of what's been posted by whom.
There's been a lot of chatter on Ukraine's social networks since Thursday about who is responsible for the destruction of MH17 - the Malaysian plane carrying 298 people.
But the social media story really begins almost three weeks ago, on 29 June. Back then, a key Twitter account used by pro-Russian separatists in Ukraine claimed that they had captured a Buk surface-to-air missile system from the Ukrainian army. The tweet has since been deleted, according to BBC Monitoring. But this matters because Ukrainian officials later claimed that a Buk may have been used to shoot down the Malaysian Airlines plane.
Fast forward to the day the plane went down. Beginning at 13:50 GMT on Thursday, an account believed to be linked to a pro-Russian separatist leader in Ukraine, Igor Girkin (Strelkov), posted on the Russian social network VKontakte. He claimed that militants had shot down at least one Ukrainian military plane near the Donetsk Region town of Torez, possibly two. The post has now been deleted.
Shortly afterwards, pro-Kremlin TV channels started reporting that a Ukrainian plane has been shot down by rebels, calling it "a new victory of the Donetsk militia" in their broadcast.
Malaysian airlines has said it lost contact with its airliner at 14:15 GMT, 50km from the Russia-Ukraine border.
At approx 15:00-15:30 GMT, Twitter accounts in Ukraine began discussing a shot down plane. They first assumed this was a Ukrainian air force plane, but and soon news spread that a Malaysian plane had "crashed" in Ukraine near the Russian border. Later it was reported as having been "shot down".
By 15:38 GMT, the blame game had begun in Ukraine. Russian news agency Interfax quoted rebel representative Sergey Kavtaradze as blaming "the Ukrainian side" for the Malaysian plane crash. "We simply have no air defence systems of this kind," he said. And at 15:59 GMT, Ukrainian news website Censor.net quoted a Ukrainian army source as saying the Malaysian airliner was downed by the Russians, not the Ukrainians.
By 16:00 GMT, #MH17 and #PrayForMH17 had become top Twitter trends in Malaysia and soon after, worldwide top trends.
By 18:00 GMT, pro-Russian accounts on social media in Ukraine began to distance themselves from earlier claims that they had downed at least one Ukrainian plane. "The information was taken from a local online chatroom where locals talk to each other," said a tweet from Strelkov Info, a key account used by pro-Russians in eastern Ukraine.
But at 18:04 GMT, the issue of the Buk surface-to-air missile came back. Ukrainian military journalist Dmytro Tymchuk used his website to report that pro-Russian rebels with a Buk were spotted in the Donetsk Region earlier in the day.
In Ukraine, Боинг-777 (Boeing 777) and #MH17 began to trend on Thursday night. In Russia, СУ-25 (Sukhoi Su-25 aircraft which is used by the Ukrainian armed forces) trended on Twitter in relation to a previous incident where an aircraft operating over Eastern Ukraine was claimed to have been downed by a rocket fired by a Russian fighter on Wednesday evening.
Today on social media, the information war continues. Leaders in Russia and the Ukraine continue to blame one another, as do the separatists. On Wikipedia, both sides are trying to portray their side of the story. According to the Global Voices blog, an IP address based in Kyiv edited the MH17 record to say that the plane was shot down "by terrorists of the self-proclaimed Donetsk People's Republic with Buk system missiles, which the terrorists received from the Russian Federation". But soon enough, that record was edited to portray a different side of the story. The same article reports that a Moscow IP address from a computer at VGTRK, the All-Russia State Television and Radio Broadcasting Company, replaced the earlier edit with the sentence: "The plane was shot down by Ukrainian soldiers." The discovery was made by a Twitter bot that tracks anonymous Wikipedia edits made from IP addresses used by the Russian government.
Meanwhile in Malaysia, there is doubt that the truth will be revealed by either Ukrainian or Russian authorities. Malaysian Sports and Youth Minister Khairy Jamaluddin's call for the black boxes to be investigated independently was retweeted more than 11,000 times. I feel very, very strongly that the #MH17 black box must NOT be examined by either Russia or Ukraine," he wrote. "It must be returned to Malaysia."
Reporting by Mukul Devichand, Ravin Sampat, Tse Yin Lee and BBC Monitoring Kiev.
You can follow BBC Trending on Twitter @BBCtrending
All our stories are at bbc.com/trending