#BBCtrending: The Smelly One, Baggy Eyes... it's #SomaliNicknames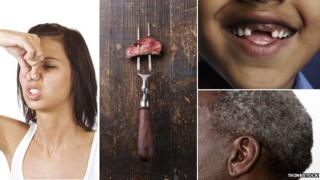 There are thousands of people tweeting using the hashtag #SomaliNicknames. What's all the fuss about?
Somalis love nicknames. And their nicknames are - to put it bluntly - pretty blunt.
White Hair, No Fingers, Chipped Tooth and Big Bottom, are all popular ones.
The hashtag #SomaliNicknames was first used on Twitter four years ago (the first tweet read: "Goatboy: Because he talks fast and sounds like a goat at times.")
It's been lying largely dormant since then, but has made a spectacular comeback in the last couple of days, with more than 6,000 tweets - from Somalia, the UK, the US and elsewhere.
Here is a selection of some of the nicknames doing the rounds on Twitter:
---
Shiiraaye - The Smelly One
Ilka koronto - Electric teeth
Indho Buluc - Baggy eyes
Tima Cadde - Grey hair
Ayaan CNN - "because she talks too much"
Ali Fork - "because his front teeth are far apart"
Ayaan timaa riif riif - Ayaan kinky hair
Hafsa Caadey - Hafsa Fair One
Hassan Habeenimo - Hasan Night
Abdi Roast Meat - "beacuse he got caught eating the Christmas dinners"
Abdullahi BMW (Balaayo Madax Weyn) - Abdullahi Trouble with a Big Head
Leyla Lugooyo - Leyla "who cuts the legs from beneath you" (someone who is devious or unreliable)
---
For more on the background to Somali nicknames, see Justin Marozzi's From Our Own Correspondent.
You can follow BBC Trending on Twitter @BBCtrending
All our stories are at bbc.com/trending