#BBCtrending: The racist video that's shocked Australia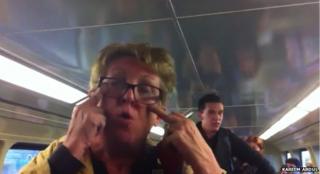 Police in Australia have charged a woman after a video was uploaded to YouTube showing her hurling racist abuse at passengers on a train near Sydney.
Racially offensive gestures, mocking of accents, referring to a woman as a "gook". The three-and-a-half minute video is packed with racist abuse. It was uploaded to YouTube on Wednesday by one of the passengers who filmed it on the train. The video begins with the woman expressing her anger that some children have not given up their seats to let her sit down.
She then starts abusing a woman she calls an "Asian", and a man she assumes is the woman's boyfriend. "Look at this bogan here," she says, using an Australian slang term similar to "white trash". "He can only get a gook, he can't even get a regular girlfriend. It's so sad." "Gook" is a derogatory term which came to prominence when used by American soldiers in the Vietnam war.
The video has been watched more than 280,000 times and prompted more than 1,000 comments on YouTube - as well as discussion on Twitter and Facebook. "Good on those train passengers for filming that incident," tweeted Australia's Race Discrimination Commissioner Tim Soutphommasane. "It's one way we can hold people accountable for racist abuse." In the video, several of the passengers are seen to challenge the woman directly for her behaviour.
Most commenting on Twitter were strong in their condemnation. "Wow, just wow #OnlyinAustralia #Disgracetothehumanrace," was one tweet for example. "I love it when technology brings transparency and accountability. This racist will rightly be shamed publically," was another.
Under Australia's Racial Discrimination Act, it is against the law to "offend, insult, humiliate or intimidate" someone because of their ethnicity or race. But the government is currently debating whether to repeal this section of the act. The plan is controversial, and some made reference to the proposal while discussing the video.
On YouTube, some defended the woman. "Can't blame her... migrants come here and think they own the place," was one comment. But many Australians apologised for her actions. "This woman does not represent the views of MOST Australians," wrote one. "Sorry for anyone offended, she is an entire nation's shame."
The Australian website ninemsns says it has tracked down the woman in the video. In an interview with them, she said she'd had a "really, really rotten day". She apologised for her actions and said she was "disgusted" at her behaviour. "No-one deserves to be spoken to like that," she said.
This is not the first time that racism in Australia has come to public attention. In June 2013 a woman was captured on video racially abusing an Asian schoolboy on a Sydney bus. Earlier that year, Malaysian-Australian newsreader Jeremy Fernandez tweeted about "15 minutes of racial abuse" he was subjected to on a bus.
You can follow BBC Trending on Twitter @BBCtrending
All our stories are at bbc.com/trending