#BBCtrending: Do ads such as #LikeAGirl make a difference?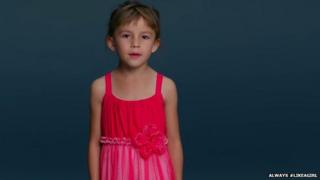 A video for sanitary towels is trending on YouTube. But there isn't a direct mention of the product and only a subtle reference to the brand. It's a formula that has proven to be successful for companies. So what does it say about how advertisers are using social platforms to reach new audiences?
The video entitled #LikeAGirl was made for the brand Always, which sells feminine hygiene products. It presents itself in a candid documentary style and asks girls and boys of different ages about their understanding of what it means to be "like a girl". The filmmaker and director Lauren Greenfield says she teamed up with Always "to shed light on how this simple phrase can have a significant and long-lasting impact on girls and women."
It's a transparent attempt to debunk negative stereotyping associated with femininity. You only need to glance at the online conversation ignited by this video to understand why it's been so successful. "Moving", "amazing", "wonderful", and "inspiring" have been used to to describe it. #LikeAGirl is popular because it taps into an issue that resonates with people worldwide. Gender equality is one of the most prominent topics discussed on social media - look no further than the hashtag campaigns #NotYourAsianSidekick and #YesAllWomen.
Since Thursday the #LikeAGirl video has been watched more than 20 million times on YouTube and the hashtag has been used 75,000 times on Twitter. But does it do more than get clicks and start a conversation? Can it move the gender debate forward and sell products at the same time? "It's often difficult to quantify if a specific video sold more products as it will have been part of a much wider campaign. But there are examples where this has happened. The motherhood Fiat ad sold £500,000 worth of cars." says Christopher Quigley, co-founder of the Viral Ad Network (VAN).
Advertising and simultaneous campaigning on social media is not new. Last year Pantene released an ad on YouTube using the hashtag #ShineStrong. It featured men and women in the same scenarios but using different words to describe them. The intention? To ignite a debate about how genders are perceived in the workplace. Perhaps the most ringing endorsement came from Facebook COO Sheryl Sandberg who gave it the "'Lean In' prize of the day!" It only became apparent at the end of the video that it was an ad for Pantene. "As a fundamental principle, advertisers have to respect people's time and realise that they can click away at any point," says Christopher Quigley of VAN. "As long as you've enjoyed or engaged, there's no reason why you'd have a negative reaction to the brand."
So advertisers realise they can't just blatantly flog their products on social media. They're attempting to give people something extra and be part of a conversation. But there's a fine line between success and failure. This week's Twitter Q&A with the US singer Robin Thicke is a recent example of how things can go horribly wrong. Social media users are savvy and discerning which means companies have more exposure and are more exposed than ever before.
Reporting by Anne-Marie Tomchak
You can follow BBC Trending on Twitter @BBCtrending
All our stories are at bbc.com/trending