#BBCtrending: Amid chaos, Libyans look on the bright side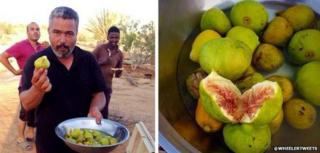 No-one would deny that life in Libya is difficult right now, but a hashtag trending there, #MyLibya, is trying to show the positive side of life in the country.
"Since there is so much negativity and pessimism about the situation in Libya, I think it's about time we start a new hashtag #MyLibya," tweeted Khadija Ali, a 21-year-old student and freelance journalist, early on Tuesday morning. Since then, there have been more than 2,500 tweets using the hashtag.
Like the #OnlyinSomalia hashtag we reported on this blog, casting an eye over the tweets and photos gives a small window onto the day-to-day life - and frustrations - of people living there. The hospitality of Libyan people, the importance of family, the desert and the coast are all frequently mentioned on #MyLibya. Its been used widely right across Libya and among the Libyan diaspora around the world.
Khadija Ali started the hashtag in an attempt to counter what she sees as the negative or simplistic portrayal of Libya in mainstream news. Social media can skew to the negative too, she says, with some people keen to be the first to tweet about the latest attack, as a way of boosting their own follower numbers. Libyans on social media have a responsibility, she says, to point out the good things too.
For her, it's the small things - the sun glistening off the water, children on their way to school, or the roads being fixed in Tripoli - that give her hope. "Being here, you see the potential there is," she says. "There's no place I'd rather be in all honesty."
Three years after the overthrow of Col Muammar Gaddafi - who ruled for more than 40 years - Libya remains highly unstable, both politically and in terms of security situation. Large swathes of territory are controlled by militias and successive governments have struggled to remain in control.
Living in Libya can be "super frustrating" says 25-year-old Libyan-American Assia Amry who lives in Tripoli and has also been tweeting using the hashtag. "#MyLibya restored my faith in Libya... it reminded me why I'm here and why I continue to be here," she says. "It's not all militia and gangs - real people live here and it's important that these people and these places get highlighted too."
Student Amena Shermadou tweeted an image on the hashtag of her father kissing the ground as he arrived in Libya just after the revolution - for the first time in more than three decades.
She lives in Ohio and had hoped to fly to Benghazi herself for only the second time in her life last week, but the airport was closed and the flight was cancelled because of fighting in the city. "Seeing the #MyLibya tweets gives me hope," she says. "We are all united in one thing - we all want and hope for the best for Libya."
Reporting by Cordelia Hebblethwaite
You can follow BBC Trending on Twitter @BBCtrending
All our stories are at bbc.com/trending