#BBCtrending: Why does Facebook want you to vote?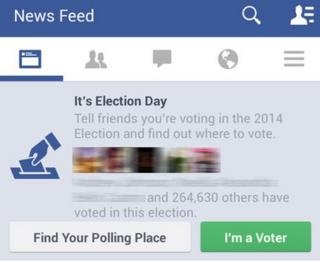 Have you voted in the European elections? A private question you might think - but Facebook has other ideas.
If you're in the UK or the Netherlands then chances are you may have seen - or be about to see - a message appear in your Facebook news feed. It reminds you that it's election day, and has a link to where you can find your local polling station. It also tells you which of your friends have hit the "I'm a Voter" button on Facebook, to show they've voted.
The feature was first tested in the US in 2008. When it was used in the 2012 US presidential election, more than nine million people hit the "I'm a Voter" button. Four million people in India declared themselves voters on Facebook in the recent election. The feature has now been extended globally and will be used in all countries voting in the European Parliament elections. It will also appear in the Scottish referendum on independence in September, and in elections this year in Brazil, South Korea, New Zealand, Colombia, Indonesia, and Sweden.
Interestingly, research suggests the feature may actually increase the turnout in elections by a small, but statistically significant, percentage. A study published in Nature looking at 2010 congressional elections in the US concluded that 340,000 extra people voted as a result. The biggest influencer was not the message itself, but the impact of seeing close friends who had clicked the "I'm a Voter" button.
But would why Facebook want to encourage people to vote? "It's a no-brainer," says Bernie Hogan, a research fellow at the Oxford Internet Institute. "The question is why wouldn't Facebook want to do this - it's good press for them." Facebook is keen to present itself as a force for good in the world, says Hogan, and more than any other social network, is particularly suited to people to sharing the things that shape their image or identity - including politics. Facebook says elections were the second most popular topic of discussion on the site globally last year, after the Pope.
Encouraging voter turnout and political discussion may not be the only motive for Facebook. Just as when it recently launched the relationship "ask" button, the "I'm a Voter" feature will provide the company with valuable data which it could - in theory - sell on to marketers, says Hogan.
In the UK, the "I'm a Voter" button is on the mobile edition of Facebook only. Of course, the feature doesn't say who you - or your friends - have voted for.
Reporting by Cordelia Hebblethwaite
Have you subscribed the BBC Trending podcast? You can do so here via iTunes or here
All our stories are at BBC.com/trending