#BBCtrending: Wishing for someone else's president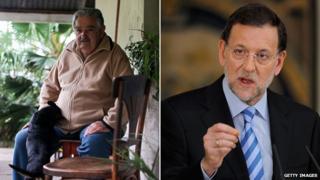 Spaniards are swooning over a president - but not their own.
Praise for politicians is rare on Twitter, but in Spain, there's a sudden outpouring of love for Uruguay's President Jose Mujica. There have been more than 100,000 tweets from people comparing him favourably to their own prime minister, using the hashtag #UnPresidenteDiferente - "a different president".
Uruguay's president is famous for driving an old banger, living a humble life and giving a large slice of his salary to charity - so much so that he's often been dubbed the world's "poorest president". It's no wonder then that Spain's Prime Minister, Mariano Rajoy, might seem dull by comparison.
But comparing the two leaders is exactly what Spaniards on Twitter have been doing since Sunday when Mujica gave an interview on a left-wing Spanish TV station. The presenter of the programme, Jordi Evole - with his more than one million followers on Twitter - did much to get the hashtag #UnPresidenteDiferente trending. But since then, it's taken on something of a life of its own.
"Humble, sincere, honourable. About how many Spanish politicians would you be able to say the same?" is one typical tweet. "It's incredible that a country 'less' developed than ours has more efficient and committed politicians than us," was another. Some shared images of the two leaders, complaining of Rajoy's - by comparison - less modest lifestyle.
Twitter is of course far from being an accurate representation of public opinion, but the Twitter conversation does seem to point to a sense of frustration or apathy about politics from some. Surveys suggest that both the prime minister's Popular Party (PP) party and the Socialists in Spain are losing support. The prime minister took a further knock to his reputation due to the so-called "Barcenas scandal", involving alleged secret payments linked to members of his party.
The grass is always greener on the side, but it's unusual for the Spanish to look to Latin America for political inspiration, says journalist Noemi Hernandez. Some using the hashtag have even been comparing Uruguay's president with the Pope - himself quite a social media star. But there's at least one big difference. In his interview on Spanish TV, President Mujica declared himself an atheist.
Reporting by Cordelia Hebblethwaite
Have you subscribed the BBC Trending podcast? You can do so here via iTunes or here
All our stories are at BBC.com/trending