#BBCtrending: How a million people called to #BringBackOurGirls
By BBC Trending
What's popular and why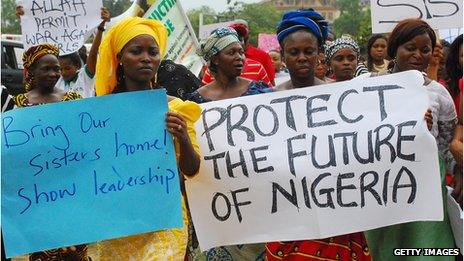 The hashtag calling for the return of 200 schoolgirls abducted in Nigeria has been tweeted over a million times - going from a local trend to a global one in the past week.
As we first reported on this blog, #BringBackOurGirls began trending in Nigeria less than two weeks ago. It was started in Nigeria, by a group of campaigners in Abuja who wanted to exert pressure on the authorities to do more to find the girls and bring them to safety. Ibrahim M Abdullahi, a lawyer in Abuja, was one of the first to use the hashtag. "Initially this was not a co-ordinated campaign. It was a number of individuals in Nigeria tweeting to raise awareness in the hope that the international community would eventually take notice." Abdullahi says there's a team of between 20 and 30 people behind #BringBackOurGirls in Abuja. They've recently set up an official Twitter account @BBOG_Nigeria to tell people about the latest developments in the campaign. "We've organised ourselves," Abdullahi told BBC Trending, "I've just been at a demonstration in Abuja to meet the Chief of Defence Staff."
The aim was to attract global attention, but despite the fact the girls were abducted in mid-April, that didn't happen until May. High-profile names like former US Secretary of State Hillary Clinton and Pakistani schoolgirl Malala Yousafzai have now lent their voices to the campaign. A tweet by Clinton was retweeted 11,000 times. In it she wrote: "Access to education is a basic right & an unconscionable reason to target innocent girls. We must stand up to terrorism. #BringBackOurGirls" Hollywood actor Forest Whitaker tweeted too. "They've broken our hearts, they won't break our will to #BringBackOurGirls. If u can speak give them a voice. If you can act, you must. #Nigeria," he wrote. But possibly the most shared tweets were from US musician Chris Brown. He wrote a series of three tweets outlining what happened to the girls, which collectively received 30,000 retweets.
Now that it has become international, it's interesting not only to note what is being posted, but where it is being posted. Since 4 May, about 22% of the tweets have come from Nigeria, while 44 % were in the United States. The hashtag is now being used around the world. Social platforms like Facebook and Google+ are being used to organise events and curate international media coverage. An online petition calling for action has so far received almost 300,000 signatures and demonstrations have been planned outside the embassies in London and Washington. Interestingly some of the demonstrations are calling for action solely online. For example, a "social media march" is urging people to use Twitter, Facebook, BBM, Instagram, Whatsapp and whatever else is out there for 200 minutes to raise awareness about the plight of the girls. So will all of the social media coverage in the digital world translate into results in the real world? "Of course, so far it's making a difference," says campaigner and lawyer Ibrahim M Abdullahi. "I'm so glad #BringBackOurGirls has become so big. The pressure has mounted and the Nigerian government has no choice but to sit down and come up with a solution."
Rotini Olawale, media spokesperson for #BringBackOurGirls told BBC Trending "We're encouraged by the response by the international community and hope they'll continue to speak out." He says "Every day the girls are gone counts. We want the government to tell us what efforts are being made to find them. Hundreds of police have been deployed for the World Economic Forum taking place here this week. So why can't resources be put into returning the girls safely?"