#BBCtrending: Beaten in Varanasi for 'drinking beer and peeing'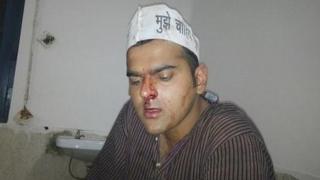 In the latest macabre twist of India's election season, campaigners have been beaten up next to the country's holiest river - but did they drink beer and pee there, and was this "moral policing" by thugs allegedly linked to the BJP?
Social media is not always the most reliable source of news. This much we know: on Monday night, two party activists were beaten up next to the Ganges river in Varanasi, one of the key election battlegrounds in India. But who attacked them, and why? Two very different versions are trending on Twitter.
Version number one: the two men had drunk beer next to the holy river - itself a morally questionable act for some - and then to add insult to injury, they urinated into the river. Outraged locals then attacked them, according to a widely retweeted local journalist. This is the version being spread by some supporters (though not official accounts) of the Bharatiya Janata Party, the front runners in the election who are associated with Hindu nationalism. Their leader Narendra Modi is standing from Varanasi. The two men who were allegedly beaten up are from the Aam Aadmi Party (AAP), a relatively new anti-corruption party whose leader has chosen to stand from the same seat.
Officially speaking, though, the BJP is completely "ignoring" the episode, says the party's head of social media Arvind Gupta. He says he hasn't tried to verify the events of Monday. But he concedes that some party activists are making mileage out of the incident by spreading this version of events. "The AAP is claiming to be holier than thou, but it is not," he told BBC Trending. Thousands are now using the hashtag "AAP's alcoholics" (#AAPKeSharabi), and some are also spreading pictures of their opponents allegedly buying drinks at liquor stores.
Version two of the story is very different. This version is being spread under the hashtag "BJP goons" (#BJPKeGundey), which seems to have been started by one of the men beaten up - who just happens to be the IT administrator of the AAP. In a series of tweets, Ankit Lal said he and his fellow party workers were drinking water - not beer - when they were attacked by men wearing BJP caps.
The two hashtags are in competition at the top of India's trending topics - with one replacing the other as party activists furiously tweet and retweet. "There is no moral policing here," the BJP's Gupta says. "I don't know the authenticity of any of these accounts." Perhaps especially in election season, it's important not to believe everything you read on social media. "Everybody please calm down," the journalist who originally claimed the men had been drinking beer has now tweeted. "My tweets were based on interviews of locals around the area. I do not claim it as gospel truth. Peace!!"
Reporting by Mukul Devichand
Have you subscribed the BBC Trending podcast? You can do so here via iTunes or here
All our stories are at BBC.com/trending