#BBCtrending: The row over rape in Lebanon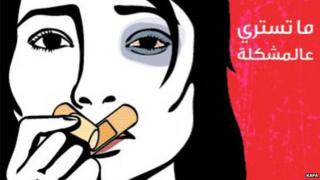 A law protecting women from domestic violence in Lebanon has just been passed. Many citizens took to social media to lobby their MPs to take action, but the precise wording of the new law has left many disappointed.
Using the hashtag #NoLawNoVote, Lebanese men and women put pressure on politicians to enact the law, and posted pictures of themselves holding their thumbs up, covered in red ink. The gesture was intended to send a message to MPs - that if they didn't support the bill, voters would not re-elect them in this summer's general election. TV news anchors and pop stars joined the campaign, and messages of support were posted from around the world. "Make your voice count!" said one, and "big support from Abu Dhabi... #RedThumbs," another posted. Use of the hashtag spiked on Tuesday, when the law was finally passed by the Lebanese Lebanese parliament.
It was not the victory many were hoping for, however. Maya Ammar of KAFA, a group that has been part of the campaign, told BBC Trending: "The version that was approved is not good enough, and is not the one we fought for." The exact details of the law had been the subject of a debate lasting many years. For example, those spearheading the campaign thought that rape within marriages should be defined as a crime in its own right. In the end, the law did not go this far, and instead simply outlawed "violence" between family members. Many took to Twitter to express their disappointment: "'Don't hit her, rape her' says the new Lebanese law," was how one critic interpreted the outcome.
Ammar says she feels deceived by MPs who had originally pledged to support a more stringent version of the law. In response, her organisation designed a new image flipping the symbolic thumb upside down - which has itself been shared widely on Twitter. "If you don't vote for us, we won't vote for you," the new slogan reads.
Women in Lebanon have traditionally enjoyed more freedom than those in other countries in the region, and hopes for a more specific version of the law were high. Although many are disappointed with the outcome, Ammar says she would not describe it as totally ineffective. "We can always use the protection measures that were approved," she says.
Reporting by Sam Judah
Have you subscribed the BBC Trending podcast? You can do so here via iTunes or here
All our stories are at BBC.com/trending