#BBCtrending: The Twitter trolling of Turkey's PM Erdogan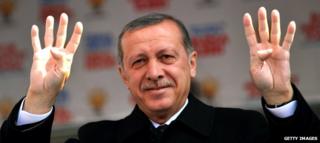 The big news on social media over the past few days has been the block of YouTube in Turkey - which came hot on the heels of a similar restriction on Twitter.
Neither has been particularly effective, as Turks are widely using proxy servers to get round the block. But why does Turkey's Prime Minister Recep Tayyip Erdogan hate social media so much? Turns out he has his reasons, as BBC digital consultant Esra Dogramaci explains in the latest BBC Trending radio.
Also in the programme, "Don't give it to a Russian" - the "deliberately provocative" protest by women in Ukraine. And did you know that nose kissing is traditional among men in Saudi Arabia?
Also in the studio, Mai Noman from BBC Arabic and Masha Kondrachuk from BBC Monitoring in Ukraine.
BBC Trending airs on BBC World Service every Saturday at 11:30 GMT. You can catch up on any edition here, and subscribe to our free podcast here.
All our stories are at BBC.com/trending