#BBCtrending: Malaysia's 'Bomoh' and the superstitious search for MH370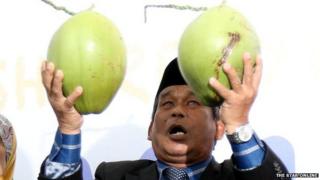 A Malaysian shaman - or "Bomoh" - wielding coconuts and bamboo binoculars to locate missing flight MH370, has triggered a mixture of outrage and embarrassment from the country's social media users.
Bomoh Ibrahim Mat Zin was accompanied by several assistants on Wednesday at the Kuala Lumpur International Airport, and told reporters they aimed to "weaken the bad spirits so the rescuers can find the plane". On Monday he used a fish hook to similar effect. The word "bomoh" has now been tweeted more than 200,000 times, and the overwhelming sentiment appears to be shame. "It's so embarrassing to have 'Malaysia' and 'Bomoh' in the same sentence" tweeted one. "Stupid, shameful", and "ignorant", others tweeted back to BBC Trending. There is some confusion over whether the Bomoh's public displays were made at the request of the government itself. On Monday he claimed to have been invited by one of the country's top leaders, but on Wednesday he said he was working of his own volition.
Despite the outpouring on Twitter, former journalist and Malaysian cultural commentator Eddin Khoo says the events are not surprising, and "very much a problem of the cultural politics of Malaysia over the last 30 or 40 years". Islam - the country's main religion - had traditionally been interpreted in a mystical way, says Khoo, but in recent years that mysticism has started to be taken more literally. Lots of politicians use Bomohs in the hope of advancing their careers, he says, and shamanistic figures make regular appearances at times of national crisis.
On the other hand, many of the country's Muslims do not agree with the actions of the Bomoh. Today a Muslim NGO, Pertubuhan Ilmuan Malaysia, spoke out against his appearance. "These nonsensical rituals embarrass the Malaysian Muslims and seem to make a mockery of proper Islamic teachings," the group's leader told reporters.
Have you subscribed the BBC Trending podcast? You can do so here via iTunes or here
All our stories are at BBC.com/trending