#BBCtrending: #Davecalls... David Cameron lampooned on Twitter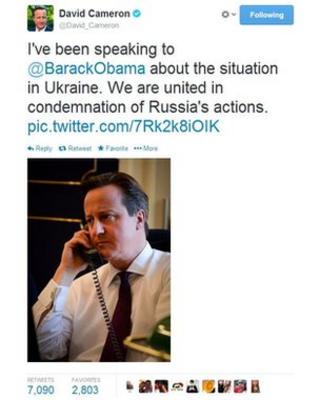 The British Prime Minister David Cameron has tweeted a picture of himself calling President Barack Obama - prompting countless parodies and the hashtag #davecalls.
"I've been speaking to @BarackObama about the situation in Ukraine. We are united in condemnation of Russia's actions." This was the simple, serious, and seemingly unremarkable tweet posted from David Cameron's account on Wednesday.
But, as we have reported on this blog before, it can be a pretty harsh world out there on social media if you are a top politician. And it was the photo posted with the tweet, showing the prime minister - phone-receiver-in-hand, apparently in the midst of the call - that triggered a wave of tongue-in-check tweets.
Actor Patrick Stewart - famous for his role as Captain Jean-Luc Picard in Star Trek - was one of the first in there. "I'm now patched in as well. Sorry for the delay," he tweeted, with an image of him holding a tub of hand wipes to his ear. And so it continued... Soon there was a dedicated #davecalls hashtag - which has had more than 2,500 tweets - which people used to share the images. Here is a selection.
All our stories are at BBC.com/trending
Follow @BBCtrending on Twitter and tweet using #BBCtrending