#BBCtrending: Ukrainians welcome US 'Aquamaidan'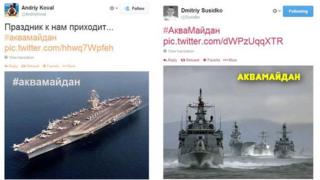 First there was the "Euromaidan" protest hashtag in Ukraine - now Ukrainians are sharing images of a US super-carrier with the hashtag "Aquamaidan" (#аквамайдан).
As we have reported on this blog before, social media has been a key part of the protest movement in Ukrainian right from the start when Independence Square was renamed #Euromaidan (#євромайдан) by people on Twitter.
During the protests, another hashtag emerged - #AutoMaidan (#Автомайдан) - which involved people using their cars to block streets and help channel protesters.
Now, with reports that a US super-carrier is currently moored in Greece, this has led to a flurry of chatter among Ukrainians on social media. Although this appears to be a scheduled stop, some are interpreting this as a sign of US support. And since late on Tuesday, Ukrainians have been sharing images of US carriers with the words "Aquamaidan" superimposed on top. "It was a joke... a play on words," says Dmitriy Susidko from Kiev who was the first to use the hashtag on Twitter. But the message behind it is a serious one. "I hope the ships of the US Navy help the Ukrainian military if Russian troops begin military action in the Crimea," says Susidko.
The trend is relatively small at the moment - just a few thousand shares in all. The carrier in Greece is named the USS George HW Bush.
All our stories are at BBC.com/trending
Follow @BBCtrending on Twitter and tweet using #BBCtrending