#BBCtrending: 20,000 follow Pistorius's Twitter account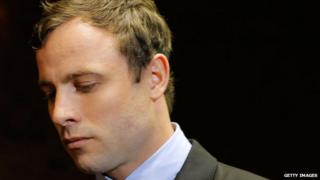 More than 20,000 people have followed a Twitter account set up by Oscar Pistorius's PR team - just days before the start of his murder trial.
The account, called @OscarHardTruth, was set up on Sunday. The first tweet from the account, says the aim is to "provide the hard truth as it unfolds". Oscar Pistorius has tweeted about the new account, saying it will give the "truths behind the trial".
In the UK, there have been a number of cases where people have been prosecuted for contempt of court because of comments made on Twitter or Facebook - the attorney general is even issuing guidelines on what can and cannot be posted on social media during a court case.
South African laws on contempt of court are not as strict. A judge in South Africa on Tuesday ruled that Pistorius's court case - which starts on Monday - can be partially televised.
Pistorius shot his girlfriend, the model and TV star Reeva Steenkamp, in February last year. Prosecutors allege the killing was premeditated - he claims he mistook her for an intruder. There are 6,000 followers on the @JusticeForReeva account which was set up on her death.
All our stories are at BBC.com/trending
Follow @BBCtrending on Twitter and tweet using #BBCtrending