#BBCtrending: Venezuela protests and the 'virtual' battle online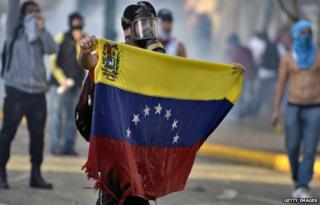 With both pro and anti-government protests taking place in Venezuela, there's also a "virtual" battle on social media.
Ever since last week when three protesters were killed at the end of an opposition rally, the mood on Twitter in Venezuela has been feverish. Venezuelans are big Twitter users anyway, and - with little news of the anti-government protests making it onto mainstream TV or radio - many are increasingly using social media as a source of news. A number of hashtags have been trending, and countless images of the protests are being shared.
Two of the biggest opposition ones are in English - #prayforVenezuela and #sosVenezuela - and both have been tweeted more than 1.2 million times. They have been popular both inside Venezuela and in the US, which has a sizeable community of Venezuelans. The Twitter account of opposition leader Leopoldo Lopez - who on Tuesday handed himself in to the National Guard - is the fastest growing in the country at the moment, according to the social media analytics site Socialbakers. Lopez has been using the hashtag #lasalida - the exit - which has prompted some to accuse him of encouraging a coup.
The government, and supporters of the government, are using social media just as much, says Billy Vaisberg, who runs a site monitoring Twitter use in Venezuela. "It's a kind of virtual fight," he says between opposition and government supporters vying to get their preferred hashtag trending. The late President Hugo Chavez was initially a critic of Twitter, he says, but later signed up and used it extensively - prompting Venezuelans across the country to open accounts. Many government officials now use Twitter - rather than a press release - to announce important news. One of the most popular pro-government hashtags is #tropa - which means "troop" - and is used to rally supporters around a range of issues.
On Wednesday 12 February, in the hours that the followed the student protest in Caracas, there were reports - confirmed by Twitter - that some specific images of the protests were being blocked on Twitter. It's unclear who was behind this, but the government has criticised social media users for circulating "fake" images. There have been a number of examples of photos which purport to be from the protests, but can actually be traced to Egypt, Greece, and Spain.
Reporting by Cordelia Hebblethwaite
All our stories are at BBC.com/trending
Follow @BBCtrending on Twitter and tweet using #BBCtrending