#BBCtrending: Turkish PM's private call goes viral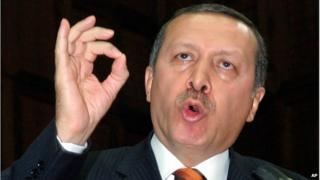 Almost 800,000 people have listened in on a private phone call posted on YouTube, in which the Turkish Prime Minister appears to suggest that a TV executive should remove captions of an opposition politician criticising him.
The phone call was posted online last week but was allegedly made during the Gezi Park protests, which erupted in Istanbul in June last year, pitting thousands of young people against Prime Minister Recep Tayyip Erdogan's government. In it, Erdogan is apparently heard to be scolding a senior executive from HaberTurk TV, part of a major privately run Turkish media network. The Prime Minister hints that the TV executive should take down the captions the channel was running, which had quoted an opposition politician accusing him of inaction over the protests. "This is astonishing," he is heard to say. "OK sir, as you say," replies the senior executive.
The call was posted by an online group who say they are anti-corruption activists, although it is unclear how they obtained the alleged recording and they could not be reached for comment. Prime Minister Erdogan has conceded that he did make this phone call. He says it was because the opposition politician quoted in the TV station's captions had used extraordinarily insulting language.
The hashtag "There Is Pressure On Media" (#MedyayaBaskıVar) trended on Twitter in Turkey in response to the video, with over 500,000 tweets in 24 hours. "Mainstream media are government allies... suck ups," said one tweet. There are more widespread concerns about government pressure on the Turkish media, with Turkey accused of being the world's biggest jailers of journalists.
However, the debate on Twitter is highly politicised. According to Erkan Saka of Istanbul Bilgi University, the hashtag was started by an account affiliated to the Gulen movement, an Islamic movement active on social media. The prime minister's supporters have also weighed into the Twitter debate. "When Gulen intervenes, you say it is all fine Master, but when the Prime Minister expresses his concerns, it is #ThereIsPressureOnMedia," said one.
Reporting by Ertugrul Erol
All our stories are at BBC.com/trending
Follow @BBCtrending on Twitter and tweet using #BBCtrending