#BBCtrending: Lebanon's app for bomb blast survivors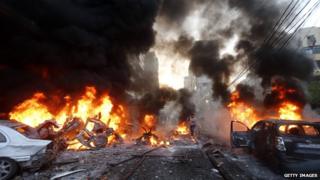 "I am still alive" - that's the simple message that a new app allows people in Lebanon to tweet at the touch of a button, following a bomb attack. The app will soon be extended to include other countries - and may even be used in disaster zones.
When most people develop an app, they want it to do well. But 26-year-old Lebanese student Sandra Hassan has mixed feelings about her "I Am Alive" app. She launched it on 21 January as "an expression of frustration" at how bad the security situation has become in Lebanon. "I didn't expect that people would actually start using it," she says, But they have. There have been two bomb attacks since it was launched, and dozens of the 4,000 people who have downloaded the app so far have used it for real.
At the touch of a button, the app sends a tweet saying "I am still alive! #Lebanon #Latestbombing". This has some practical advantages. Right after a bomb blast, the phone lines are often so congested with people trying to find out if their friends and family are ok, that calls can't get through. But, Hassan says, a weak internet signal should be enough for the app to push out its message.
As we have reported on this blog before, there has been an increase in bomb attacks in Lebanon, which has left many angry and frustrated. Hundreds of people have commented on the app. Some have called it "sad" or criticised it on the grounds it normalises violence. But most have welcomed it, and many have offered suggestions for tweaks - to make it tie-in with Facebook, or work for those not on social media - which Hassan plans to incorporate in an update.
Some have got in touch from outside Lebanon - from Egypt and Pakistan in particular - asking for the app to be extended to their countries, which Hassan hopes to do. She has also been contacted by an NGO interested in using the app in natural disasters.
Reporting by Cordelia Hebblethwaite
All our stories are at BBC.com/trending
Follow @BBCtrending on Twitter and tweet using #BBCtrending