#BBCtrending: Rome cracks down on 'feral' parking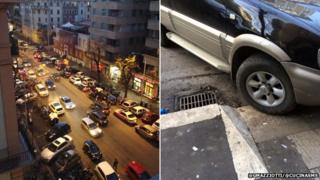 Rome is notorious for its high-octane driving and chaotic parking - but a Twitter account in the city could start to change that.
With 2.6 million people and 70 cars per 100 citizens, parking in Rome has long been a nightmare. Pavements, zebra crossings... you name it, virtually nowhere is off-limits, says Massimiliano Tonelli from the website Roma Fa Schifo (Rome Sucks), which highlights problems in the Italian capital. "The situation is totally out of control," he adds.
But one man is on a mission to change this - Raffaele Clemente, who was recently appointed as head of Rome's traffic police. Two months ago, he helped set up an official Twitter account for Rome's police, @PLRomaCapitale, to allow residents to tweet in their concerns - including on parking. It encourages people to tweet photos of "sosta selvaggia" (feral parking) along with the location of the offending vehicle - ready for the traffic police to come and take action.
Italians are not big Twitter users - compared with the UK and other European countries - but ten weeks on, the account now has more than 4,000 followers and buzzes with dozens of reports from across the city every day.
"Twitter allows citizens to see they're not alone in wanting to end this scourge," says lawyer Giuseppe Mazziotti who started to use the service after he saw an ambulance blocked by poorly parked cars. In one particularly bad case of double parking, the account tweeted him back with news of 22 fines. "It sends a strong signal that the population supports enforcement action - even though this is unpopular with the offenders themselves," he says.
The experience has not been positive for everyone though. "I tweeted about parking problems near my office and although my tweet was acknowledged, no-one came," says web developer, Stefano Vergani. "Perhaps they don't have enough officers to cover every case. I'll try once more but if that doesn't work, I'll stop."
At least one anonymous Twitter account has denounced the practice as crowd-sourced spying - and somewhat un-Roman - but the reports keep streaming in. So if you're a "feral parker" in Rome, think twice. Big Twitter is watching you.
Reporting by Matt Taylor
All our stories are at BBC.com/trending
Follow @BBCtrending on Twitter and tweet using #BBCtrending