#BBCtrending: Cleric in Saudi Arabia denounces football as 'fanaticism'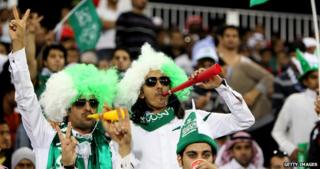 Is there a conflict between football and religion? One cleric in Saudi Arabia thinks so - in a widely viewed YouTube video, he criticises football "fanaticism", saying it's driving society to destruction.
It's sometimes said that football is the new religion, but that's not a view that would go down well with Sheikh Ibrahim al-Zobaydi. A video of him denouncing "sports fanaticism" was posted on YouTube on Saturday - the same day as a game between two of Saudi Arabia's top teams, Al-Nassr and Al Hilal. It's been viewed more than 700,000 times.
In it, he singles out a hugely popular hashtag used by Al-Nassr fans. Although it's difficult to translate into English, it means roughly "my team has taken the lead, don't talk to me". It was first generated by an Arsenal supporter as a way for Arabic-speaking fans to express their pride in the team's steady rise back up the Premier League. When Al-Nassr made a similar comeback, the team's supporters quickly adopted the hashtag for themselves - using it on Twitter, but also using the slogan as a motif, such as emblazoning their cars with it.
The cleric objected to the phrase "taking the lead" in the hashtag. "The true leader is the one who competes to memorise the book of Allah," he said. This prompted thousands of comments, both on the video page and on Twitter in Saudi Arabia - and many of them clearly agree with the cleric. "Sports fanaticism is one of the illnesses of the modern age," is one of the supportive tweets. But others disagree - and by Monday, a response hashtag accusing him of "slandering" Al-Nassr fans was trending. There have been more than 4,000 tweets using the hashtag - including from sports photographer Fahad Almarri. There is nothing wrong with being a sports fan, he told the BBC, "as long as it doesn't cross red lines" - i.e. impact upon religion or friends or family.
Football "fanaticism" has been highlighted by several religious figures in Saudi, but not all are as categorical in their condemnation. Author and cleric Ayid al-Qarni - who has a whopping 5.4 million followers on Twitter - tweeted after the same match, saying: "To #Al-Nassr I dedicate my book 'Smile' and to #Al-Hilal I dedicate my book 'Don't be sad'".
Reporting by Sumaya Bakhsh
All our stories are at BBC.com/trending
Follow @BBCtrending on Twitter and tweet using #BBCtrending