#BBCtrending: 'Go home train, you're drunk'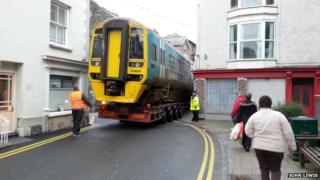 A tweet containing a bizarre picture of a train being transported through the town of Barmouth in Wales has been retweeted more than 2,100 times.
Chris Applegate posted the photo along with the line "Go home train, you're drunk" at 10:36 GMT on Friday.
As well as being retweeted by the likes of DJs Rob da Bank, Sara Cox and Jameela Jamil, the tweet has been "favourited" more than 1,000 times, and has received dozens of replies.
So what's the secret to triggering a Twitter mini-trend? Applegate, who works for the social media agency We Are Social, told BBC Trending it's down to a combination of three factors.
1. The picture
"It's a great photograph. I actually lifted it from a BBC News article about two trains being rescued after having been marooned by the floods in January," explains Applegate. The photo was taken by a man called John Lewis - who has 18 followers on Twitter. He tweeted it to the BBC Wales news desk, and other news organisations, along with the words "Tight squeeze through Barmouth!" (his tweet had 16 retweets).
"I'm amazed to see how many people have seen the pic," said Lewis on hearing the news that his image ended up so widely shared. His main focus on the day had been to take a video of the train being moved through the streets. "Not a lot of thought went into this photo really, but I seem to have captured something unique," he says.
The image seems to work because of the size and awkwardness of the train, juxtaposed with the quaint Welsh houses. "The pedestrians seem fairly unperturbed by the presence of the train - I think that also helps," says Applegate.
2. The line
"I work with social media every day and although I was tweeting in a personal capacity, I know what does well on Twitter," says Applegate. "I saw the picture and had seen variations of the 'Go home, you're drunk' meme and knew it would work well and thought it was funny. It's amusing if you've seen the caption before - as it's with a new picture - but it also works a joke in its own right."
Simple and inoffensive lines like this amuse us because they give inanimate objects a vulnerability that we usually only associate with living things, he argues. It's touching and silly and people can relate to it - while also being amused by its obscurity. "I'd wager most British adults have either done something regrettable when drunk, or know someone who has," Applegate adds.
3. The timing
"It was luck that I tweeted it on a Friday, I was actually on a train myself to Gatwick Airport at the time. But I've got a hunch that a joke like this does quite well at the weekend, especially if it gets going on a Friday afternoon. That's the sort of time that people are getting a bit bored of sitting at their desks and want to start enjoying themselves and have some fun."
Reporting by Ed Ram
All our stories are at BBC.com/trending
Follow @BBCtrending on Twitter and tweet using #BBCtrending