#BBCtrending: #Rolezinhos, Brazil's 'flashmob' trend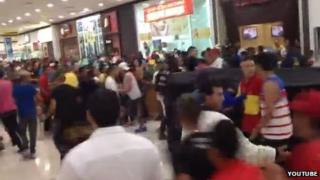 Young Brazilians - many of them black - have been taking part in controversial flashmob-style gatherings in shopping centres in Brazil - causing an intense debate on social media about race and class.
Young people around the world often hang out at shopping centres. So far, so unusual. But over the past five weeks in Sao Paulo - Brazil's biggest city - there have been a series of large scale gatherings, called rolezinhos, organised via Facebook. The first - and biggest so far - was on 7 December at a shopping centre near the World Cup stadium. Organisers claim as many as 6,000 people took part. Since then, there have been a further five rolezinhos in the city and many more are planned for the coming weeks. Most of those taking part are young, black and from poorer areas.
There tends to be a bit of singing, but other than that, not a lot seems to happen - role is slang for hanging out with friends. But a number of shopping centres have applied for judicial orders allowing them to block entry to those they believe are taking part, arguing their presence is frightening and off-putting to customers. At the most recent rolezinho at the weekend, police are reported to have used tear gas and rubber bullets and harassed some of those taking part. YouTube videos of the events have had thousands of views, and the hashtag #rolezinhos has been trending on Twitter across Brazil for the past five days.
The discussion on social media has been heated and highly divisive - some have referred to those taking part as hooligans, or have expressed concern the gatherings could be a precursor to protests - as there were last year in Brazil. Others say those taking part are being treated in a heavy-handed way because they tend to be black and poor. "We can compare #rolezinho to an apartheid. The rich on one side, the poor on another," was one comment on Facebook. In a newspaper interview one anthropologist said: "When it's the poor they call it #rolezinho. When it's the rich they call it flashmob." It's reported that President Dilma Rousseff held a meeting on Tuesday to discuss the rolezinhos.
Reporting by Cordelia Hebblethwaite
All our stories are at BBC.com/trending
Follow @BBCtrending on Twitter and tweet using #BBCtrending