#BBCtrending: Things to love about South Sudan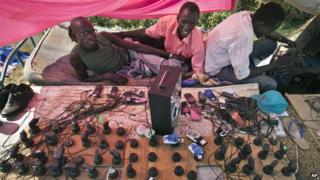 Ever since fighting began in South Sudan a month ago, social media has played an important role - as a source of practical information, sharing news, and as a kind of support network.
It may sound unlikely in a country in the midst of fighting that has killed more than 1,000 people and displaced thousands more, but over the past three days there have been hundreds of tweets using the hashtag #ThingsIloveaboutSouthSudan - praising things like the food, local customs and the hospitality. "Right now, it's hard for traditional media to do a positive story about South Sudan - because there are not a lot of positives there," says Ian Cox, an American who runs a business in the capital Juba selling 4x4 vehicles, and who helped start the hashtag. "But it's good to push out a parallel message about what the country is like at its core."
A few days into the conflict, the hashtag #MyTribeIsSouthSudan began to trend, and was used more than 2,000 times, by people keen to push back at the way the country has been portrayed as dividing along ethnic lines. The conflict began on 15 December when President Salva Kiir, a Dinka, accused his former Vice-President Riek Machar, a Nuer, of plotting a coup. In the very first hours of the fighting, Twitter was used extensively in Juba as a way of sharing information on the dangerous and safe places and in planning evacuations, says Cox.
The South Sudanese government has been active on Twitter, posting updates on the fighting and peace talks. On the rebel side, it's been much quieter on social media - probably because internet access is virtually non-existent in the areas they are operating. Even in the capital it can be hard to get a 3G signal, and people often gather outside major hotels to tap into their wi-fi networks. Things can get quite inflammatory between the Dinka and Nuer on online forums - all posts about South Sudan on the BBC Africa Facebook have to be carefully moderated for example.
Reporting by Cordelia Hebblethwaite
All our stories are at BBC.com/trending
Follow @BBCtrending on Twitter and tweet using #BBCtrending