#BBCtrending: A puppet, the quenelle and the Penguin Dance...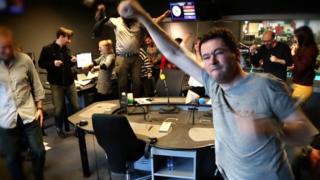 Can a puppet be a terrorist? On the latest #BBCtrending radio, Mukul Devichand speaks to Abla Fahita, an Egyptian puppet accused of being involved in a terror plot (this is the full length interview - see her in action in our video).
We also look at the controversial arm gesture, the quenelle. It's seen as anti-Semitic by many - but defended as a powerful anti-establishment symbol by the thousands posting images of themselves using it.
And what on earth is the Penguin Dance - and how do viral dance crazes spread? See behind the scenes as the #BBCtrending team and colleagues tear up the studio in a demo.
With Matt Danzico, Mai Noman and Estelle Doyle in the studio.
We air on BBC World Service every Saturday from 11:30 GMT. You can catch up on any edition here, and subscribe to our free podcast here.
All our stories are at BBC.com/trending