Fifty pence to fame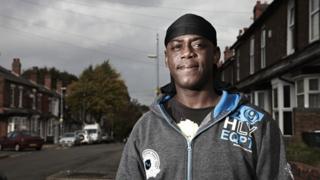 Do people on welfare benefits deserve them? As Britain debates the issue, one man - dubbed the "50p man" - has been embraced as an "inspiration" on social media.
This week in the UK, a Channel 4 documentary about a Birmingham street where 90% of the residents reportedly claim out-of-work benefits has provoked angry debate about the way people on benefits are portrayed and about 100 official complaints. But one man on the TV show - known as Smoggy - received a more positive response online. He even has his own hashtag, #50pman, which began to trend during and after the programme. It showed the lives of people in James Turner Street living on benefits. But Smoggy, who does not claim, was shown selling people household items such as sugar and tea bags for 50p - in other words being entrepreneurial to make ends meet. He also gave items away to those most in need.
"I challenge [you] to watch #benefitsstreet and not be inspired by the 50p man! What a legend!!" tweeted UK electronic music act Rudimental. "Give #50pMan a government grant to do what he does professionally. It's a good service that could make massive differences to peoples lives," said another Twitter user. Now it seems that Smoggy's television appearance, and possibly his online popularity, has opened up real opportunities. "Since I've been on the TV I've had some nice feedback and some job offers to help me with my 50p business," he told the BBC. He he said he was considering taking one of the offers. "It should help me get quicker to where I want to be," he added.
On news of the job offers, social media interest spiked again with many people congratulating him.
The reaction to Smoggy's entrepreneurial spirit fits into a wider debate about welfare in the UK. The Chancellor, George Osborne, said earlier this week that a further £25bn in spending cuts - much of it from the welfare budget - would be needed after the next election. The wider debate about welfare in the UK has often invoked the idea of an "undeserving poor," and those -- perhaps like the #50pman -- seen by some parts of the public as more entrepreneurial.
Reporting by Jasmine Coleman
All our stories are at BBC.com/trendingFollow @BBCtrending on Twitter and tweet using #BBCtrending