#BBCtrending: Lebanon's #notamartyr selfie protest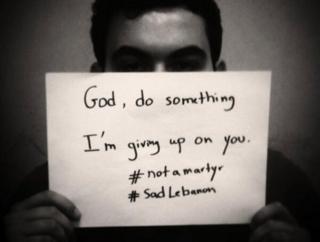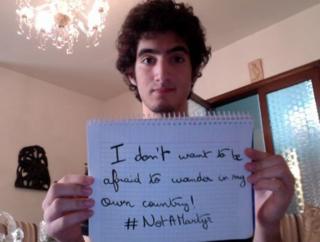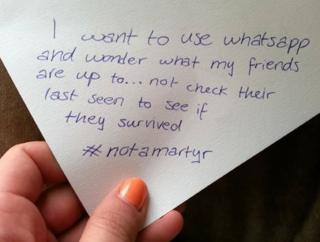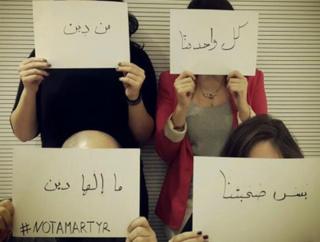 The death of a teenager in car bomb attack in Lebanon has prompted a "selfie protest" in the country under the hashtag #notamartyr.
Ten days ago, opposition politician Mohamad Chatah - tipped by some to be a possible future prime minister - was killed in a car bomb attack in Beirut. Four others were killed in the blast, including 16-year-old Mohammad Chaar who happened to be in the area with some friends.
While mainstream media focussed on the politician's death, on social media the focus was instead on the way the teenager was being dubbed a "martyr" by some. Soon after the blast, a Not a Martyr Facebook page and Twitter account were set up and the hashtag #notamartyr began to trend. The Facebook page now has more than 5,500 likes.
The organisers of the campaign are encouraging people to post selfies of themselves, together with a simple message. Hundreds have now done so. Why a selfie? Because moments before the explosion Chaar and his friends took a group selfie on the street, unaware of what was about to happen. An image of that selfie - together with a photo of Chaar's blood-stained body, shot by a photographer just afterwards - was widely shared on social media in the country. There were thousands of #RIPMohammadChaar tweets and countless blog posts. One of them referred to the image as "the most tragic selfie of 2013".
"I kept thinking to myself this isn't martyrhood, this is murder," says 25-year-old blogger Dyala Badran who was among the first to start tweeting about the attack using the hashtag #notamartyr. "We are devastated by the senseless violence and wish to voice these feelings and ideas." Badran - and those behind the protest - argue that the word "martyr" is often misused in Lebanon to refer to people who are really innocent victims caught up in violence. Politicians use the word "martyr" as a way of politicising violence, dehumanising those who are killed, and side-stepping the need for investigation, say those behind the protest.
Many of the images, as you might expect, are about the security situation. But other issues are also being highlighted - including corruption and sectarianism. Organisers say it has struck a chord because Lebanese people feel helpless, and are desperate for an outlet to vent their feelings.
Reporting by Cordelia Hebblethwaite
All our stories are at BBC.com/trending
Follow @BBCtrending on Twitter and tweet using #BBCtrending