China smog: as cities choke, the people joke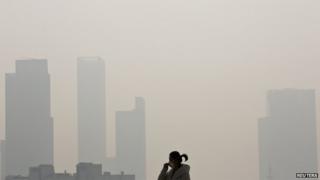 Thousands of Chinese social media users are choosing to joke about the haze engulfing many of the country's biggest cities at the moment.
On the latest edition of our BBC World Service radio programme, Mukul Devichand hears some of the quips being made on networks such as Sina Weibo in China about the smog. Are they funny, dark or just sad?
He also speaks to the doctor in Kenya who started the hashtag #sickat50, which - as we reported on this blog - has been used by Kenyans to discuss a medical strike, and express dissatisfaction with the state of the country as it celebrates 50 years of independence.
BBC Trending airs on BBC World Service every Saturday at 14:50 GMT. You can listen to all the programmes, and subscribe to our podcast.