#BBCtrending: #NotYourAsianSidekick goes global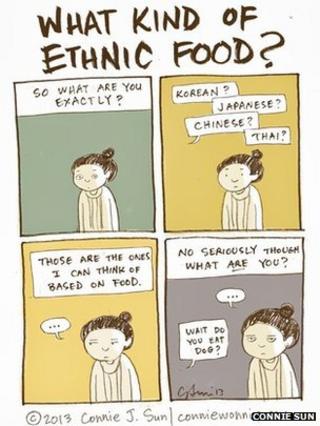 Thousands of Americans tweeting #NotYourAsianSidekick have sparked a global debate about the way Asian women are thought of.
"Be warned," the Chicago-based rights activist and freelance writer Suey Park tweeted early on Sunday. "Tomorrow morning we will be having a conversation about Asian American Feminism with hashtag #NotYourAsianSidekick. Spread the word!!!!!!!" Her very deliberate attempt to create a debate about the way Asian-American women "have to be SMART and PRETTY to be heard and "are objectified by Asian men and White men" was hugely successful. In less than 24 hours, the hashtag has been used more than 45,000 times around the world.
The conversation, which started with discussion of how Asian women are stereotyped, soon spread to cover racism ("Oh look. More bitter liberal non-whites expressing anti-white attitudes," tweeted one user, who was roundly criticised), the under-representation of Asian-Americans in media, dating patterns between racial groups and attitudes towards mental health. Cartoons and humour were shared and the debate also spread around the world, having particular resonance in other Western countries with large Asian minorities. One user in Toronto quoted men who say "I've always wanted a Chinese woman to cook for me" with the reply "I've always wanted laser beam eyes, sadly you're still alive." Another An L in Sydney tweeted: "Change in social attitudes towards Asian women is a long way off, but opening up the conversation is a great start." The British-Asian blogger Sunny Hundal said the debate had resonance in the UK because just like Asian-Americans "we see our faces on social media, but when we turn on the TV we see only limited stereotypes."
Suey Park said the hashtag had arisen out of her frustration at the narrow ways in which the label "Asian-American" was defined, saying #NotYourAsianSidekick would allow marginalized Asian-Americans to voice their grievances. The topic trended in both US and worldwide on Sunday, in part because of Park's own prolific tweeting. "How much longer can we get #NotYourAsianSidekick to trend?" she asked at one point. "I'm getting tired! Fresh voices, please speak now! We need you to keep it going!"
Reporting by Michael Hirst
Follow @BBCtrending on Twitter and tweet using #BBCtrending