#BBCtrending: No selfies at Mandela coffin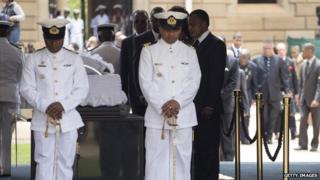 In the wake of Western leaders taking a selfie at Nelson Mandela's memorial, there's a strict rule being enforced for the people filing in to view his body lying in state: no mobile phones allowed.
After Tuesday's selfie sensation - a photo showing US President Barack Obama, British Prime Minister David Cameron and Danish Prime Minister Helle Thorning-Schmidt taking a shot of themselves at Nelson Mandela's memorial service - it would be no wonder if the authorities in South Africa feel twitchy about Mandela's lying in state. Police at the scene in Pretoria are on loudspeakers telling people to leave their mobile phones outside - or switch them off, says the BBC's Nomsa Maseko. No-one should take photos of themselves inside the viewing area is the message, which is being repeated, says our correspondent, in several languages to make sure it's understood. The ban was a pre-existing one, but it's being enforced vigorously.
As we have reported on this blog before, there does seem to be something of a trend emerging of people taking selfies in all sorts of serious places - including at funerals. The image of Obama and co was widely shared on social media - together with discussion on whether it was appropriate or not. Many clearly thought not - though much of the online banter was in jest. "Personally quite impressed with Obama and Cameron's selfie. Good leaning posture, good smile. Not really appropriate but well executed," was one tweet from the UK.
It comes down to two things - context and intent, says Dr Aaron Balick, a psychotherapist and author of The Psychodynamics of Social Networking, "If you think about the intention, the intention was not to be disrespectful," he says. But, as "a sacred space", a selfie with Nelson Mandela's body lying in state would be quite another matter, he says, and it's a pity the police need to enforce this rule. "You would think it would be an automatic boundary that people would respect," he says.
The desire to be shown in shot with Mandela is clearly a tempting one - one Kenyan politician was recently rumbled for Photoshopping an image of himself to make it look like he was together with Mandela.
Reporting by Cordelia Hebblethwaite
All our stories are at BBC.com/trending
Follow @BBCtrending on Twitter and tweet using #BBCtrending