#BBCtrending: Russian MPs in 'golden gun' fight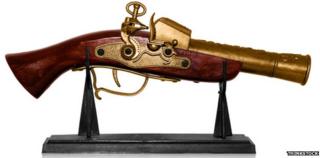 A Russian MP has been dubbed "The Man with the Golden Gun" on social media, after a fight between him and another MP reportedly ended when a golden gun fell from his pocket.
Two Russian MPs. One fist fight. A golden gun. No wonder Russians are having a field day on social media. This fight, not the first in the Russian parliament, took place in the corridors of the Duma late on Tuesday, and involved MPs Aleksey Zhuravlev and Adam Delimkhanov - both with the ruling United Russia party. Zhuravlev has claimed publicly that Delimkhanov had a golden gun, and he has not denied it. It was not long before the James Bond "Man With Golden Gun" jokes started - with a range of mocked-up images and videos being shared widely on social media. The term "State Duma" is trending on Russian Twitter - and to a lesser extent #goldengun.
Delimkhanov is from Chechnya and the republic was at the heart of the fight - specifically a monument recently erected in Chechnya, which celebrates the heroism of a group of Chechen women fighting against Moscow in the 19th Century. Zhuravlev has asked Russian MPs to investigate whether it breaks anti-extremism laws. But Chechens say this is an important part of their history. Zhuravlev has also raised questions - on his Facebook page - about training for elite special forces in Chechnya.
The two men have since announced that they have "made up and will work together". But their fight has raised a number of questions. There is a stereotype among many Russians that Chechens are gangsters - and this incident has only added fuel to that fire. "It's more proof that Chechens are wild" was one comment on a blog. "See what warlike mountain people can do!" was another. Delimkhanov was already a controversial figure - in 2009 Interpol issued an arrest warrant for him. On social media, though, most people are treating it as a joke, and also asking how an MP managed to get a gun - never mind a golden one - past security and into parliament.
Reporting by Cordelia Hebblethwaite
All our stories are at BBC.com/trending. Follow @BBCtrending on Twitter and tweet using #BBCtrending