#BBCtrending: The Croatians 'ashamed' of same-sex marriage ban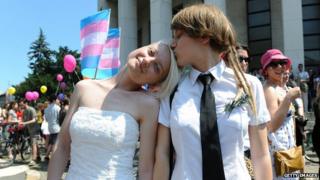 Croatians on social media say they're "ashamed" of their country's views on same-sex marriage - but who is out of step with whom?
On Sunday, two-thirds of Croatians voted to ban same-sex marriage, but on Twitter the story felt very different. It was an introspective moment - Croatia and #Croatia were the two top trending terms, followed by #referendum. The pro-gay marriage hashtag #protiv came in fourth and the fifth most popular term was the word "ashamed" - in English. "I was never proud to be from Croatia, but today I'm ashamed," was one tweet. "This is the day when pure common sense lost the battle. Ashamed to be Croat," was another.
Every Croatian citizen had been given the right to vote in the referendum, so this was a particularly clear case study in how views expressed on social media can be quite different from mass public opinion. A study by the Pew Research Center earlier this year found that opinions expressed on Twitter in the US matched public opinion surveys in just two out of eight political issues they studied. Twitter views were more liberal in some cases, and more conservative in others.
In Croatia, the Twitter profile is clearly more liberal, at least on same-sex marriage, than the real-life picture. Twitter users in Croatia tend to be more educated and live in cities and towns, according to analysts. In some rural areas in the south of the country, 98% voted in favour of the ban. The Catholic Church in Croatia backed the referendum. "Priests in sermons have been talking about this," says political analyst Zarko Puhovski. Many Croatians would have gone straight from church on Sunday to the polls, he says. Almost 90% of Croatians are Catholic.
Same-sex marriage is a big topic on social media around the world, but the Twitter debate is quite different in each country. After France legalised same-sex marriage earlier this year, a flurry of anti-gay hashtags were used - including one which translates as "death to gays". One of the most popular pro-gay marriage hashtags is #loveislove, which trends each time a US state legalises same-sex marriage, and has been used five times by President Obama.
Reporting by Cordelia Hebblethwaite
Follow @BBCtrending on Twitter and tweet using #BBCtrending