Trending: Nuclear deal welcomed by Iranians on social media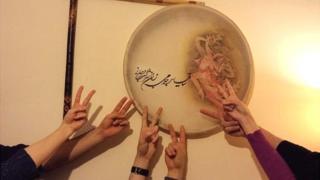 #Iran is trending on Twitter worldwide following this weekend's nuclear deal. Iranians themselves, despite the restrictions on Twitter and Facebook, have been commenting on the deal - with most of those on social media welcoming the news.
In the early hours of Sunday morning, Farahmand woke up and went straight on to Facebook. "I just woke up and realised Iran and the West have made a deal," he wrote in a status update, responding to Tehran's agreement to curb its nuclear activities in return for sanctions relief. "I am so happy that the shadow of war has left Iran." Farahmand, who is from Tehran though currently abroad, wasn't alone. While the Western world is debating the news under the hashtag #Iran on Twitter, tens of thousands of Iranians also expressed their views using social media - despite restrictions on using networks like Twitter inside Iran.
"Thank God, Thank God, Thank God," tweeted Tehran-based Fahime. "I should distribute sweets in my neighbourhood," tweeted Shas, also from the capital. The reactions weren't all positive - "The Geneva deal is one of the most shameful deals in the world," tweeted a user named Mahmoud. But on the whole, Iranians on social media are emotional about the end of Iran's international isolation. "Yes, yes it happened!" tweeted Vahid, a medical student. Iranians also shared pictures of themselves watching the negotiations deep into the night, and commented on the Facebook pages of BBC - especially BBC Persian - and other international media.
It's often difficult for outsiders to know what ordinary Iranians feel about their leaders' actions. So how representative are these users? Conservative opinion in Iran may be less well reflected on social media. But the response online was clearly positive about the deal. Three-quarters of 7,500 respondents to a poll on the Balatarin website - a US-based Farsi language site - expressed approval of the outcome on the grounds that lifting the sanctions would "improve the situation of people of Iran". One in five disapproved, believing it will strengthen Iran's ruling regime. Some respondents said they were "not happy, because limiting uranium enrichment is against our ultimate nuclear right" - but this was just 2% of those users who took part.
Reporting by Mukul Devichand