Newspaper headlines: BA staff to strike and Boris's Rwanda 'rebuke'
By BBC News
Staff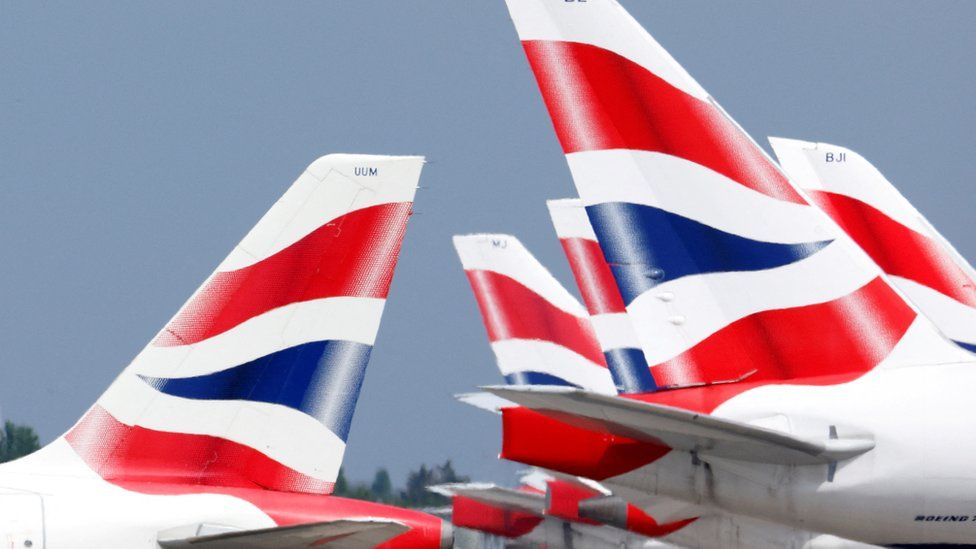 The Daily Telegraph says the BA strikes are likely to be in late July, after schools break up, and says ministers believe the next round of rail strikes will also target the school holidays.
Its editorial warns of a growing sense that Britain is "decaying" and suggests we may be heading back to the broken system of the 1970s.
The Times, though, quotes sources as saying rail companies and unions have "edged closer towards a deal".
Its visit to the picket line found flapjacks and goodwill, rather than "brooding unease" and revolution.
The Financial Times says pay settlements for public sector staff are potentially on track to be as much as 5% this year, to avert widespread strikes by key workers.
The production of biofuel uses wheat and maize, and the paper says the prime minister wants land to instead be used for producing more food.
The paper says the change will affect the government's targets for reducing vehicle emissions.
According to the Times, Mr Johnson has "reignited his row" with the Prince of Wales about the policy of sending asylum seekers to Rwanda by urging critics to keep an open mind.
It says an expected meeting between the men today will be the first since the paper reported that Prince Charles had privately called the policy "appalling".
The Daily Mail says the prime minister's words were a "rebuke" to the Prince, adding that Clarence House is understood to be unhappy that the controversy is overshadowing a "well-received" Royal trip to Kigali.
The i says the Queen is popular with the public partly because she is so discreet, and says "this meddling" by Charles "may yet dog him and the monarchy".
The New York Times says the ruling has far-reaching implications and will make it harder for any states to restrict firearms.
In Texas, where 19 children died in a school shooting last month, there is a strong response. The Houston Chronicle says the ruling has "ignored the current nightmare of gun violence". The San Antonio Express-News says we need to "seriously rethink the ease with which ordinary civilians can access military-grade firepower", arguing the situation is out of hand.
The paper calls it "a remarkable comeback that will cheer the nation".