Newspaper headlines: Britain 'runs into buffers' as PM 'inflames' rail dispute
By BBC News
Staff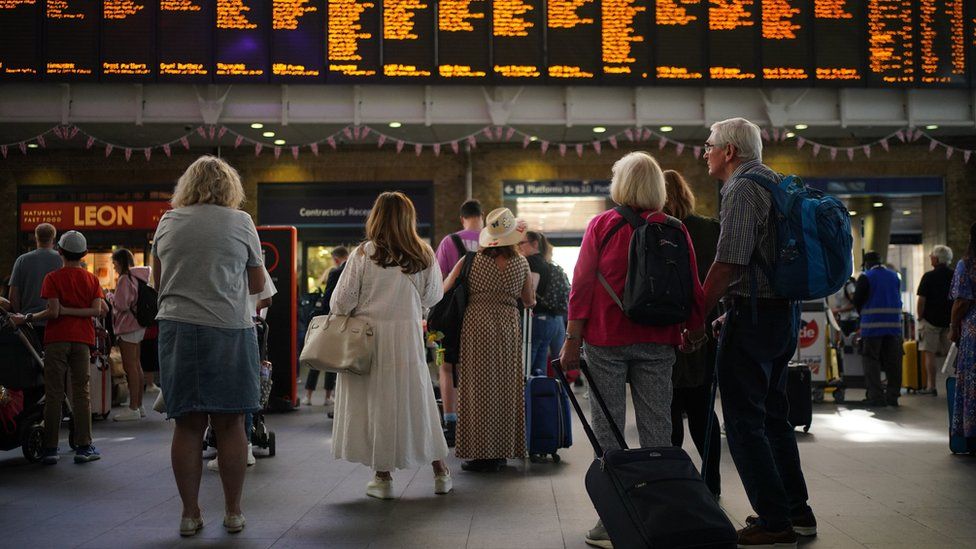 The rail strike features heavily on most of the front pages.
The Star's interpretation is that there could be strikes until Christmas if a deal isn't agreed.
Transport Secretary Grant Shapps bears the brunt of the Mirror's frustrations. "Flights cancelled, railways grind to a halt, petrol prices rise again" the paper complains "and still Transport Secretary Shapps refuses to do anything". Mr Shapps has repeatedly rejected calls to intervene in the negotiations between rail employers and the RMT union, insisting it is not the government's place to do so.
The i reports that Downing Street has asked ministers to ease the restrictions on City bosses' pay. The paper says it's seen a confidential letter from the cabinet office minister, Steve Barclay, to the chancellor, calling for "deregulatory measures" to attract more foreign companies to the UK after Brexit. The Department for Business has told the i it is "exploring whether there are any unnecessary restrictions on paying non-executive directors in shares, which could ensure they are fully invested in the success of the company they run". The Treasury and the Cabinet Office wouldn't comment.