Newspaper headlines: Tory 'identity crisis' and fans tear gassed in Paris
By BBC News
Staff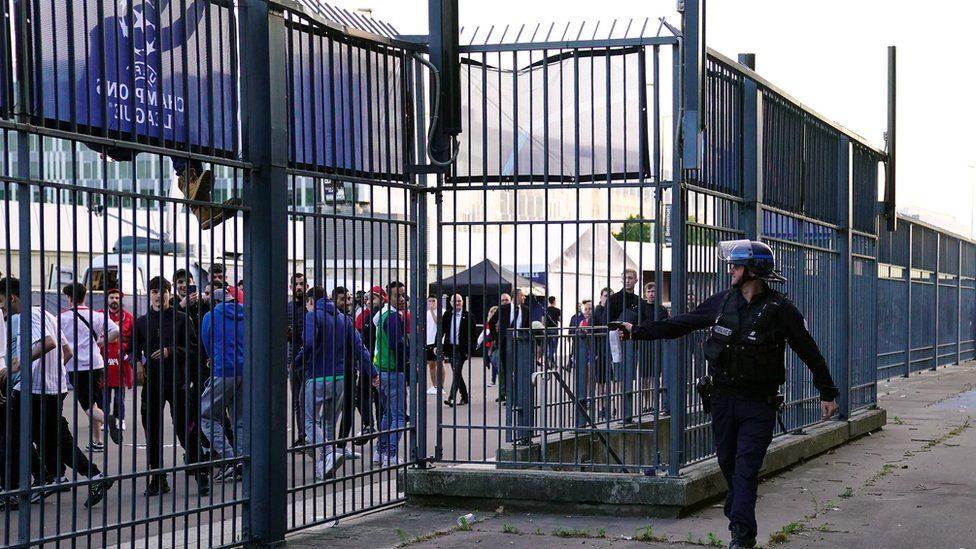 Former party leader Iain Duncan Smith tells the paper that recent tax rises have undermined a core message that has helped the Tories win recent general elections. Former Conservative MEP Daniel Hannan shares similar concerns in a comment piece for the Sunday Telegraph. He argues that the Tories have "almost wholly given up on Conservative principles" and calls it a "tragic waste".
Writing in the Mail on Sunday, Dan Hodges addresses Conservative MPs still wondering whether to back a no-confidence vote in the prime minister. He says "all the relevant facts" have now emerged about Partygate and that "Tory clan elders must bury Boris... or back him".
The paper's lead story covers a move by the government to restore the use of the crown symbol on pint glasses to mark the Queen's Platinum Jubilee. The headline reads: "Cheers Ma'am". The paper reports that the move coincides with the launch of a consultation on the revival of imperial measurements, quoting a government source saying people in the UK already measure walks in miles, milk and beer in pints, and that "nobody knows what a four-and-a-half kilo baby looks like, but we all know a ten pounder is a whopper".
The Sunday Mirror says Labour believes the prime minister should be focusing on other matters, such as tackling the cost of living.
"What a shambles", says the Sunday People of the chaotic scenes outside the Stade de France in Paris ahead of last night's Champions League final. The Sunday Telegraph's chief football correspondent, Jason Burt, has given his account of what happened, saying he was caught in one of the moments when tear gas was fired at supporters, which he describes as being "used indiscriminately" by French police. He says what he saw was "distressing" and "unfair" and there needs to be "repercussions" for UEFA and the authorities.
In an interview with The Sunday Times, broadcaster Kirsty Young has spoken for the first time publicly about her chronic illness, which forced her to take a break from her career in 2018. The former Desert Island Discs presenter, who is 53, explains she's been dealing with "severe, relentless and sometimes debilitating pain". She's been diagnosed with rheumatoid arthritis, with secondary fibromalgia. Four years later she says she's off most of her medications, and that having time off work helped her to adjust. But she explains she was tempted back by the chance to host the BBC's Platinum Jubilee coverage - describing the occasion as a "unique moment".