Newspaper headlines: PM 'damaged but unbowed' as Gray report criticises No 10 culture
By BBC News
Staff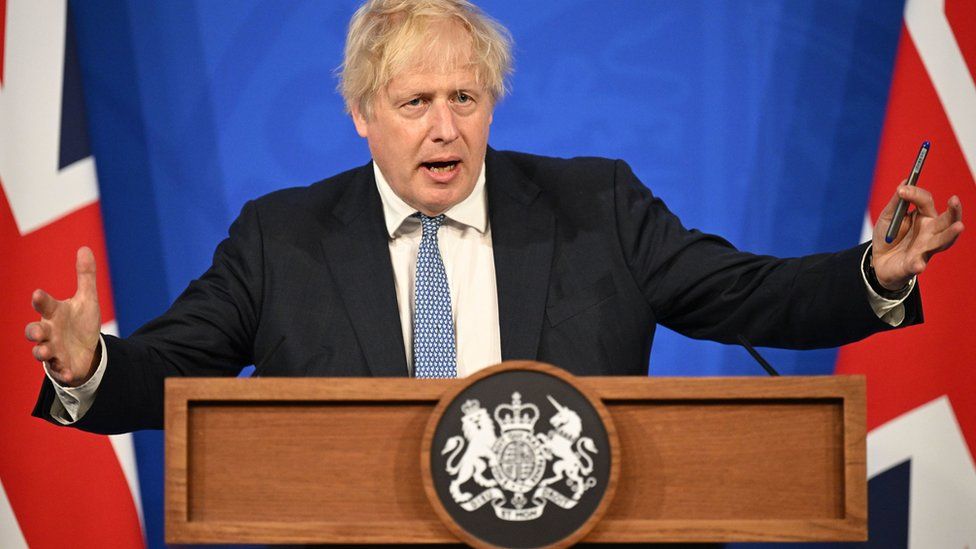 In the wake of senior civil servant Sue Gray's report, the Sun has a message for Boris Johnson: To put Partygate behind him and focus on what "really" matters - the terrifying rise in prices.
It says the self-inflicted scandal has been a damaging distraction for months - and it's "vital" the prime minister moves on.
An article featuring a table strewn with packets of sandwiches is accompanied by the headline: "Most criminal thing about this party is that it looks so rubbish."
Other papers supportive of the government have a similar reaction.
The paper says that at least £450,000 of taxpayers' cash went into the investigation, adding: "Westminster's witchfinder generals need to ask themselves, what did it really achieve?"
The Daily Mail says that for months Mr Johnson's enemies "salivated at the prospect of Sue Gray skewering him", yet, it says, after the report's photos of him with juice and M&S sandwiches, they must be asking: "Is that it?'
The Guardian's headline, though, is: "Drinking, fights, vomiting: All in a day's work."
The Daily Mirror says that "while we were sacrificing and mourning", they were "laughing at security guards, laughing at cleaners, laughing at us all".
The paper quotes what it describes as a "furious" Tory MP, saying "he thinks he's got away with it. But the public who obeyed the rules will not forget this."
The Daily Star, in its editorial, say the prime minister has no shame.
The Times says Mr Johnson was defiant and claims he was "vindicated" - despite what it describes as a damning report that laid bare a culture of rule breaking in Downing Street.
The paper's leader column mocks his explanation that he attended leaving drinks as an essential duty of leadership.
The notion that the essence of leadership in a national emergency is to share the hardships of ordinary citizens appears not to have occurred to him, the paper says.
Again and again, the Times notes, the prime minister evades moral accountability and hides behind legalistic quibbling.
The Financial Times says Mr Johnson's insistence that he did not knowingly mislead Parliament stretches credulity, and he has shown it the same disrespect as he has the British people. The paper concludes he's "unfit to lead".
The Daily Telegraph says that given the current national and international problems, it is a time for strong leadership and competent government - and Mr Johnson now has to show he can still deliver both.
The Telegraph also focuses on the news that every household in the country is to get an energy rebate, which they won't have to pay back - a policy which it says could help Downing Street shift the focus away from Partygate.
But the paper warns a political challenge will come in selling a windfall tax to cabinet ministers and Tory MPs.