Newspaper headlines: 'Fresh danger' for PM over Partygate photographs
By BBC News
Staff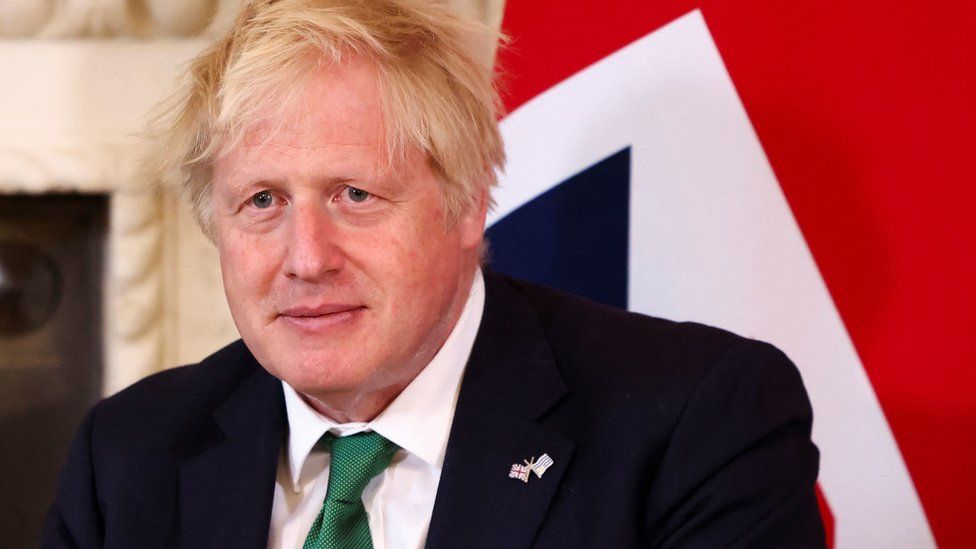 The vast majority of the front pages feature the photographs obtained by ITV News of Boris Johnson raising a glass at a gathering in Downing Street during one of the Covid lockdowns.
The Metro goes with the headline "Lockdown In One", before asking "How did Boris not get fined for this booze-up?"
The Guardian says the images pose "fresh danger" for the prime minister. It quotes sources who say Mr Johnson instigated the event and poured drinks - claims repeated by the Daily Mirror, which asks "How did he get away with this?"
The Daily Express is a lone voice coming to the prime minister's defence. Its headline suggests the Metropolitan Police's lack of action shows there's "Nothing To See Here!"
The Daily Telegraph says the pictures put pressure on the Met, following claims that the force didn't ask Mr Johnson to explain his presence at the gathering, over which at least one other attendee was given a fixed penalty notice.
The Times claims the prime minister tried to persuade the senior civil servant Sue Gray to reverse plans to publish her full report on lockdown gatherings in Whitehall during a recent meeting.
The Daily Mail makes no reference to the story on its front page, instead focusing on claims that a possible national rail strike could cause power blackouts and shortages of petrol and food. The RMT union's ballot on whether to take industrial action over a pay dispute closes today.
The Financial Times reports that the chancellor is considering expanding a potential windfall tax on oil and gas producers to take in all major electricity generators, including companies that run wind farms.
A government insider tells the paper that all power producers have benefitted from rising prices, regardless of the source of their energy.
Meanwhile, the Daily Telegraph details some of the other plans being considered by the Treasury to help those struggling with the rising cost of living.
It says Rishi Sunak is analysing proposals to increase Universal Credit to keep pace with inflation, and could also authorise sending cheques directly to the poorest households.
A motel in the US state of Indiana has received an unexpected surge of bookings after featuring in a recent high-profile manhunt, according to the Times.
It says Motel 41 has set up a waiting list due to the large number of people wanting to stay in room 150 - where the prison officer Vicky White hid with Casey White after helping him escape from jail in Alabama.
The motel has also attracted a glut of five star reviews online since police discovered the couple there - in sharp contrast to previous negative feedback detailing complaints about mould on the walls.