Newspaper headlines: 'Get out' of Ukraine and Russia could invade 'any day'
By BBC News
Staff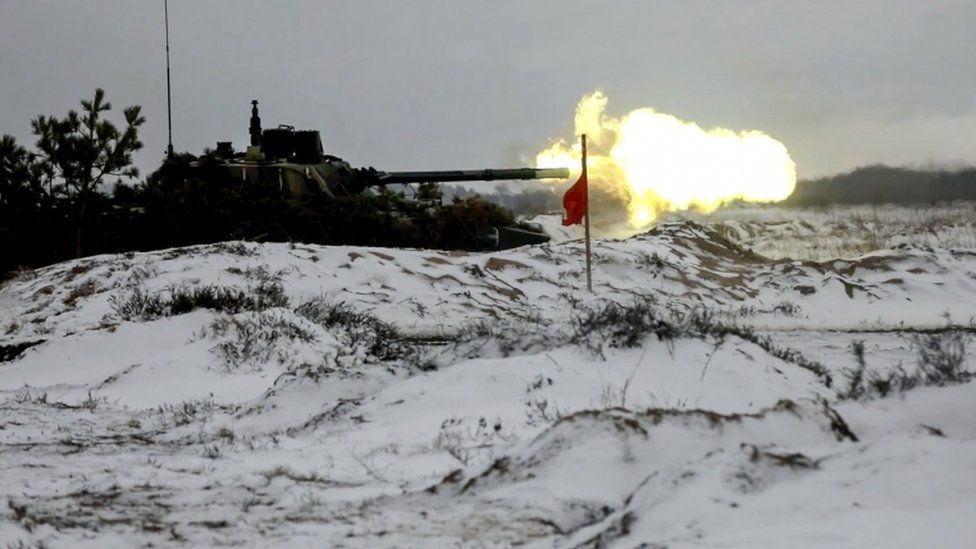 A government source tells the Times that "next week" is now "the working assumption".
The paper describes a phone call last night between Boris Johnson and other world leaders as "deeply sobering".
The FT reports that Ukraine's President Volodymyr Zelensky is enlisting up to two-million civilians in a new territorial defence force, under military command.
The Guardian says the Treasury is pushing for almost all free Covid testing to end, despite expert warnings.
A health source tells the paper public health leaders were "blindsided" when briefed about the proposals, which include scrapping almost all PCR tests, while charging for most lateral-flow ones.
The Guardian says government scientists have warned this would make it harder for people to take precautions - while increasing anxiety among clinically vulnerable groups.
The Daily Mail reports that Home Secretary Priti Patel is looking as far afield as the US or Australia for a successor to the Met Police Chief, Cressida Dick.
British policing's top job must go to the best candidate - its leader column argues - wherever they are.
But how, it wonders, will this affect what it calls the mayor of London's "left-wing ideology" of "policing our thoughts".
It was telling, the Daily Mail notes, that Sadiq Khan forced Dame Cressida to quit for failing to tackle "racism, sexism, homophobia, bullying and misogyny".
But what about the police's "core job", it asks, of fighting crime?
It says this should clarify the "dual role" the Met Commissioner plays - both as the policing head for Greater London, and also the national agency for dealing with terrorism.
And the i weekend reports that Mr Johnson has been told not to try to cling to power by top Tories - including a former leader, Sir Iain Duncan Smith - if police fine him for breaking Covid laws.
The Telegraph says he will mount a "robust defence" to the questionnaire sent by the Met about lockdown parties - and argue that his Downing Street flat "can be a workplace".
The i weekend adds some of the prime minister's other colleagues remain "astonished" by his political survival.
One comments: "If I ever get invited to his funeral, I'm going to lift the lid of that coffin, to make sure he's in there".