Newspaper headlines: 'Free cheers' and the 'price of freedom'
By BBC News
Staff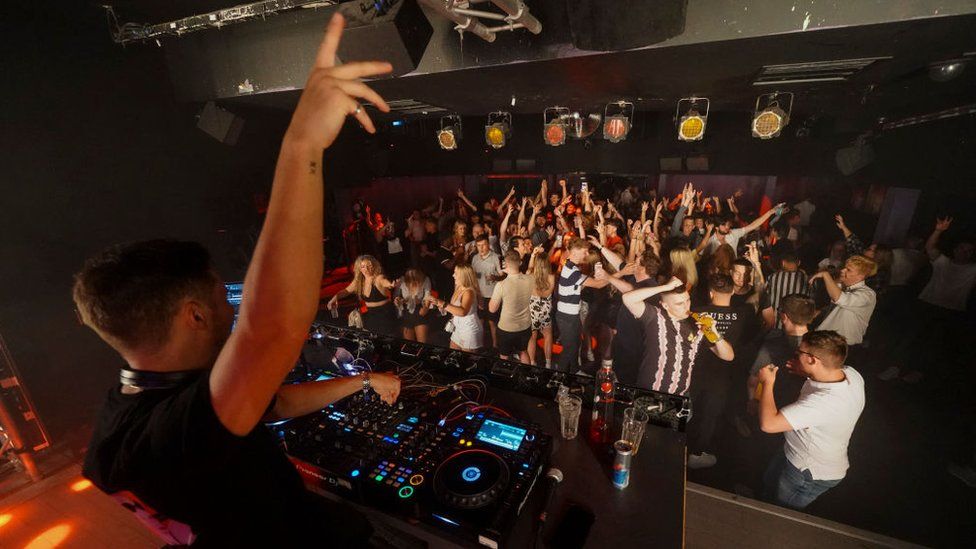 "Freedom - but at what price?" is how the Daily Express describes Boris Johnson's plan to make people prove they have been double vaccinated against coronavirus before they can enter nightclubs in England.
The Daily Mail calls it the "PM's panic on the dancefloor" and says the proposal took club bosses completely by surprise, turning so-called "Freedom Day" into an "absolute shambles".
The i says vaccine passports are also likely to be needed for entry into concerts and major sporting events in future.
But the Daily Telegraph points out that the nightclub passport plan - pencilled in for late September - requires Parliamentary approval, setting up the prospect of "crunch votes" in the Commons.
It thinks an "unlikely coalition" of lockdown-sceptic Conservatives and liberal opposition MPs could come together to try to defeat it - but that "much will depend" on whether Labour leader Sir Keir Starmer is prepared to do the same.
According to the Times, the prime minister and senior members of the cabinet have agreed to raise national insurance to fund long-term reform of social care in England.
Payments are expected to go up by a penny in the pound - for both employers and their staff, the paper reports.
The move is expected to raise £10bn a year, which will initially be spent on reducing NHS waiting lists in the wake of the pandemic before it's used to cap care costs.
But the head of the Resolution Foundation think tank tells the Times that it is a "terrible" idea - as hikes in national insurance hit "younger and lower-paid workers" the hardest.
For a second day, the Guardian devotes its first nine pages to a massive data leak suggesting that autocratic governments have been using sophisticated Israeli hacking software to spy on human rights activists and journalists.
It says Amazon has now stopped providing network services to the company which developed the software - NSO Group - because of concerns about potential misuse. NSO strongly denies the claim.
The Sun reports that the Royal Family has been "blindsided" by the news that the Duke of Sussex is writing a "tell-all" memoir. Sources tell the paper that Buckingham Palace officials were unaware of the book, which Prince Harry says will examine the "highs and lows" of his life, and share "mistakes and lessons learned".
The memoir is due for release next year, with all the proceeds donated to charity.
And several papers pay tribute to the last surviving wartime member of the Dambusters Squadron - Lawrence Goodman - who has died at the age of 100.
The Daily Mirror says he played a major role in dozens of air raids on key Nazi targets during World War Two, and held a pilot's licence until he was 93.
The Daily Star notes that Mr Goodman was widely praised for his reconciliation work after the war, and was considered an official "friend" of the German town of Arnsberg - even though he bombed its railway viaduct in 1945.