Newspaper headlines: 'There goes Christmas' and 'PM's £100bn gamble'
By BBC News
Staff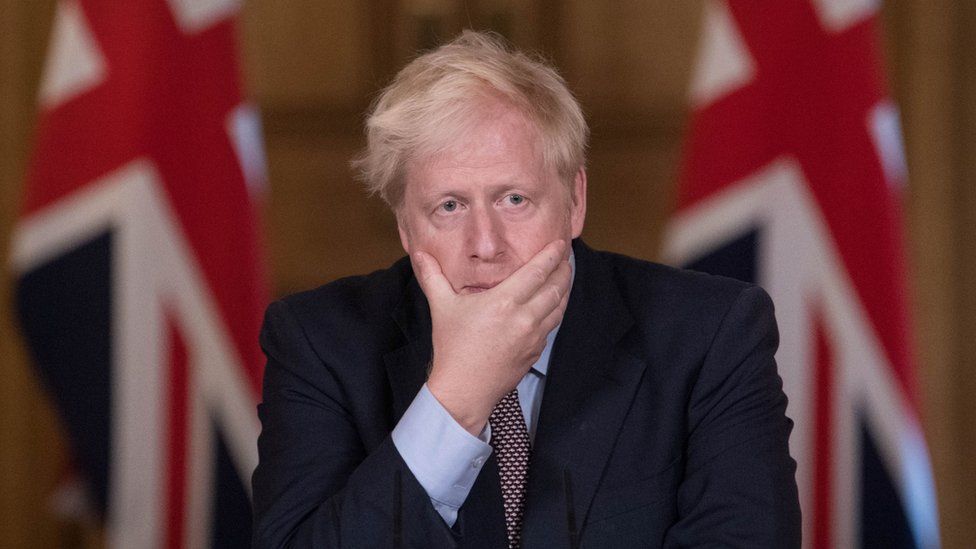 The likelihood of families gathering to celebrate Christmas preoccupies most of the front pages.
The Times and the Daily Telegraph have the same photo of a sombre PM - holding his head in his hand - as he outlined the restrictions at a Downing Street news conference.
For sketch writer Quentin Letts of the Times, the first "corona conference" in weeks "yanked us back to the most evil days of the pandemic - when these grim events happened every teatime".
The Daily Mail is among several papers unimpressed by the new restrictions - describing them as a "draconian clampdown" and a "huge overreaction".
It says the move highlights the "incoherence of the government's strategy", encouraging people back to work one minute, before "scaring many employees into staying at home" the next.
The Daily Mirror finds more examples of people sent far from their homes in order to get a coronavirus test.
One woman describes how the online booking system tried to send her elderly parents to the Isle of Wight - more than 100 miles and a ferry journey from their home in Surrey.
The paper depicts him as Coco the Clown - complete with red nose - and describes "doing a Hancock" as "acting the fool, shifting the blame" and "saving you own skin".
It quotes an EU diplomat describing the move as the "absolute nadir of four years of negotiations by a country known as the cradle of democracy".
The Independent website says the former deputy prime minister Lord Heseltine has become the latest Conservative grandee to denounce the move.
He's reportedly said that any attempt to "tear up" the treaty would face "certain defeat" in the House of Lords.
In its editorial, the Times says reneging on obligations under the EU withdrawal agreement would represent "the most serious misstep yet" of Mr Johnson's premiership. It urges the government to rethink - or risk undermining Britain's reputation at home and abroad.
Elliot Dallen used his writing to share the lessons he'd learned during his short life - reflecting on the importance of gratitude, connecting with others and the value of a life lived well.
His family tell the paper they've taken comfort in the huge response from the public to his articles, and that they read him many of the responses during his final days.